On Saturday, November 12, 2011, Falun Gong practitioners in Germany held an "Information Day" event in Wiesbaden, raising awareness about Falun Dafa and exposing the CCP's twelve-year long, brutal persecution.
In the the square in front of a large well-known department store, Falun Gong practitioners set up an information table and arranged display panels. Despite the cold, many stopped to sign the petition, take materials and ask questions about Falun Dafa. Many wanted to know where they could learn the practice.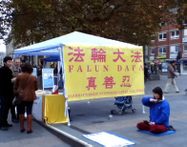 Practitioners hold activities to raise awareness about Falun Gong

People sign the petition against the persecution
Having signed the petition, an elderly gentleman in Germany had a chat with a practitioner for a while. He has been to many places in China such as Beijing, Shanghai, Suzhou, Xi'an and Kunming. He said that he loved Chinese culture and could feel that the culture is great. While the practitioner was talking about how the CCP destroys traditional Chinese culture, the old man immediately said: "I know about the Cultural Revolution, it is one of the most stupid things the Communist regime has done."
At around 2:00 p.m,. an exchange student from China was passing by the display panels together with her hosting family. A practitioner told her the facts about Falun Gong, such as the "self-immolation hoax" directed by the CCP, the information about Falun Dafa spreading all over the world and quitting the CCP and its affiliated organizations. She immediately agreed to quit one of the CCP's affiliated organisations with an alias. When leaving, she said: "I certainly do not believe what the CCP says."
An American young man living Wiesbaden stopped at the table to learn more. He was so interested in Falun Gong that he asked for the address of the practice site. When leaving, he left his email address to the practitioner so that he could get the websites and information to help him get started right away.
When it was getting dark and time to pack up, people were still stopping to take materials and sign the petition to support Falun Gong.
You are welcome to print and circulate all articles published on Clearharmony and their content, but please quote the source.