On November 5, 700 Falun Gong practitioners from all over Europe held a grand march in London.
The procession consisted of four sections: the Divine Land Marching Band, Falun Dafa All Over the World, Peaceful Resistance to the Persecution, and Supporting the Chinese Who Withdraw from the Party. The march took off from in front of the Chinese embassy, went through the busiest streets in London and Chinatown, and ended at St. Martin's Square two hours later.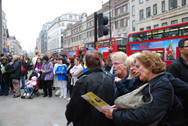 People reading Falun Gong materials
Ken, a retired diplomat, watched the march for a long time. He had heard about Falun Gong a long time ago but didn't understand why the Communist Party would persecute it. He said the only reason he could think of was that the Communist Party tries to control everything. He said he was touched by the march and the band's music. He hoped that more people would see the march and learn the truth about Falun Gong. "I will tell my friends from Hong Kong and China about it. This event is vibrant yet peaceful, demonstrating a solid belief and a love of peace," he commented.
Lisa Copson had tears in her eyes talking to practitioners she was so deeply touched by the march. She had never heard about Falun Gong before and was glad to learn about it. Tolerance is something she values, so she wished practitioners good luck.
Many tourists from other countries also stopped to watch the procession.
Slina and Lena, two students from Germany, believed that it was important to let the public know about the persecution, because it is wrong to persecute people because of their belief. Lena said the march was a good way to let the public know about the persecution, because many people would see it and would want to know what was going on.
Many Chinese people, although taken aback by the procession, were pleased to see it in London. Ms. Lina from China has lived in London for 20 years. She was delighted and took a lot of photos. "This march has taught me something about Falun Gong. This is the first time I've ever seen such a large procession," she said. She was sad about the persecution and said that she would like to learn more about it. "Every Chinese overseas should learn the truth and think about it," she commented.
Ms. Liu, a Chinese student, was surprised to see Falun Gong. She smiled, "I didn't know so many people practiced Falun Gong. I was very impressed by the band. It is quite unique." "This is a peaceful way to tell people the truth," she said. Later she quit the Communist Youth League.
Elis, a Chinese visitor, was also very surprised to see Falun Gong in London. "I was having lunch in a restaurant when I heard the music and came out. I was so surprised to see that it was a Falun Gong march. It is so different from what I heard in China. I was also surprised to see so many Western Falun Gong practitioners. It would be unimaginable in China for the police to oversee a peaceful march like this," she said. She also said that she was willing to learn more about Falun Gong.
After the march, the Divine Land Marching Band performed on the Strand near Chinatown.
You are welcome to print and circulate all articles published on Clearharmony and their content, but please quote the source.