On May 16, 2011, Falun Gong practitioners held an event in Ruse, the fifth largest city in Bulgaria, to celebrate World Falun Dafa Day and to wish Master Li happy birthday.
Many people came to know about Falun Gong for the first time and expressed their stand against the Chinese Communist Party's (CCP) persecution of Falun Gong.
In the morning, practitioners held a group practice in the park beside the Danube. A banner with the words "Falun Dafa is good" was set up. The weather was nice. Passersby were happy to take and read the Falun Gong informational flyers.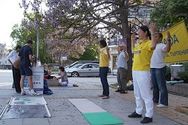 Demonstrating the exercises on Freedom Square in downtown Ruse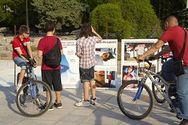 People read the display boards
At 2 p.m., practitioners demonstrated the Falun Gong exercises on Freedom Square, the busiest area in downtown Ruse. They set up poster boards along the street, showing the grace of Falun Dafa and exposing the CCP's persecution. Many people stopped to watch the exercise demonstration and signed a petition against the persecution.
Visitors stopped to study the posters and sign a petition to support Falun Gong practitioners' protest against the persecution
When they heard about the persecution in China, some people said it was inconceivable that such brutality could occur in the 21st Century. One passer-by signed the petition and invited the practitioners to come to his home as guests.
Two young boys learning to make folded paper lotus flowers. They also learned to say "Falun Dafa is good" in Chinese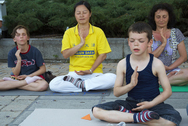 Two boys learn from practitioners
Learning the exercises
Two young boys stopped by to learn how to make folded paper lotus flowers. A practitioner also taught them to say "Falun Dafa is good" in Chinese. The boys learned the sitting meditation and sat in meditation along with the practitioners. Later, they taught other kids to say "Falun Dafa is good" in Chinese.
A local resident told the practitioners that he came from the other end of the city to learn about Falun Gong. Several people said they would bring the flyers home to show their family members.
In the evening, practitioners lit 100 candles and arranged them to form the words "Falun Dafa" in Bulgarian.
You are welcome to print and circulate all articles published on Clearharmony and their content, but please quote the source.