On May 21st, 2011, Falun Gong practitioners in Indonesia held a press conference and sit-in protest in front of the Chinese Consulate. They protested the Chinese Communist Party's (CCP) extension of the persecution via the consulate in the City of Surabaya.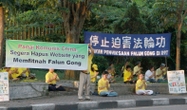 Falun Gong practitioners in the City of Surabaya protest in front of Chinese Consulate
A practitioner from Surabaya Falun Dafa Association said in the press conference that Falun Gong practitioners' march scheduled on May 7th was blocked violently by police. The reason was pressure exerted on local police via the consulate. Mr. Muriana, a spokesperson of East Java Police Department confirmed the issue in the press conference with more than 100 reporters. Jakarta Post also covered the issue. He said the interference of Falun Gong practitioners' event was masterminded by the Chinese Consulate.
The host of the event said, "If you visit the consulate website, you can see various articles defaming Falun Gong. The CCP deceives people with fabrications and lies. I call on the Indonesian government to not be misled by the CCP. The persecution of Falun Gong is known around the world. The Indonesia government should know this."
She continued, "The Chinese Consulate attempts to mislead Indonesian people, especially Indonesian Chinese, via its website and instigate their hatred towards Falun Gong. Such an act hurts the diversity of Indonesia and threatens the democratic system in this country. We expose it today and inform Indonesian people about the issue. Falun Gong has flourished in Indonesia for years. Everyone knows Falun Gong is good. I call on the Indonesian government not to yield to CCP pressure."
Practitioners held banners worded "Falun Dafa is good", "Stop persecution of Falun Gong", "CCP is the mastermind in the violent blockade of Falun Gong march", and "CCP, delete the website slandering Falun Gong".
You are welcome to print and circulate all articles published on Clearharmony and their content, but please quote the source.