Calls are mounting on Taiwan's Chunghwa Telecom to renew its satellite contract with New Tang Dynasty TV's partner in Taiwan, NTD AP. Since 2007, the station has been using Chunghwa Telecom Company's ST-1 Satellite to broadcast to the Asia Pacific. The company says it won't extend NTD AP's contract when it expires in August. Chunghwa claims that its ST-1 Satellite will soon be replaced, and the new ST-2 Satellite will not have enough capacity for the station. However in its 2008 press release, Chunghwa says that the ST-2 will have "expanded capacity and coverage."
Headquartered in New York City, New Tang Dynasty (NTD) Television serves more than 100 million potential viewers in China and around the world. NTD seeks to be the world's most trusted authority on news and information about China. Besides NTD, no major Chinese language television network reports with complete independence on China. The Chinese communist regime has long dictated politically related content for all TV stations inside mainland China. And starting in the 1990s, it began using its economic and political clout to pressure Chinese TV stations outside China to avoid reporting on the most "sensitive" China-related topics.
NTD AP believes that Chunghwa has abused its market position and has given the station differential treatment. It says these actions violate Taiwan's telecom laws, and wants the National Communications Commission to investigate.
Taiwan's government is the main shareholder of the telecom company, and there are concerns that the decision to cut service with NTD AP is hurting Taiwan's freedom of speech.
On Tuesday, US Congressman Dana Rohrabacher wrote to Taiwan's President Ma Ying-jeou about the case. Rohrabacher is concerned about the service termination and says that Taiwan should encourage freedom and the spread of ideas across the Taiwan Strait.
US Congressman Dana Rohrabacher wrote to Taiwan's President Ma Ying-jeou about the case
Rohrabacher is a founder of the Taiwan Caucus in the U.S. House of Representatives. He says that NTD AP relies on Chunghwa to broadcast to Taiwan and China news the Chinese regime does not want the people to hear. Rohrabacher told Ma, "If Taiwan does not support the struggle for freedom of thought within China, I see no need for America to support Taiwan."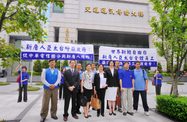 Tuesday, May 3rd, was World Press freedom Day. In Taiwan, NTD Asia Pacific Television - or NTD AP - filed an appeal at Taiwan's regulatory National Communications Commission. They say the island's largest telecommunications company is wrongfully refusing to renew their satellite contract
Giving up freedom of press under pressure from the Chinese Communist Party (CCP)
Taiwan's government owns 35% of Chunghwa's shares. Five of nine directors and two of three supervisors are government officials. Since President Ma took office in 2008, Taiwan has increased trade and cultural ties with the Chinese regime. All of this has led some to suspect that the service termination may be politically motivated.
Tien Chiu-chin, Taiwan Legislator said, "If you're replacing satellites, the new one should be more technically advanced, and be able to host more channels. Why has its capacity shrunk? I cannot understand this at all. I believe if this is made public, no one in Taiwan would accept it."
Cai Huang-lang, Taiwan Legislator, said, "Taiwan is a place with press freedom. As a government-supported company, Chunghwa Telecom suppresses freedom of speech and does not want to continue its contract with NTD. It is a backward step for democracy. It is a disgrace for Taiwan. Chunghwa has no reason not to continue the contract. They must have received pressure from the government or the CCP."
Tien Chiu-chin, Taiwan Legislator, said, "It is an alert signal that NTD's contract with Chunghwa Telecom will be discontinued. Telecom is half governmental. We worry that to make business with the CCP, the government is giving up values that the Taiwanese people treasure. Telecom needs to explain itself."
Leung Kwok-hung, a member of the Legislative Council of Hong Kong and a founding member of the League of Social Democrats, suspected that the contract cancellation was due to the CCP's political pressure, "The only possibility is to flatter someone, possibly the CCP or CCP controlled multinational consortia. Somebody may indicate, exert pressure or induce with economic interest, causing Chunghwa Telecom not to renew contract with NTD AP. This is government and business collusion."
Mr. Leung continued, "Any independent media like NTD would receive CCP threats. The CCP targets NTD as NTD does not accept the CCP's press control."
Nelson Wong Sing-chi, a member of the Legislative Council of Hong Kong and a member of Democratic Party, said, "NTD's programmes are sincere, clean and healthy. I know that many people in Asia including China watch it. Chunghwa needs to explain if it has received political pressure from the mainland and whether that's why it won't continue NTD AP's contract. If this is the case, I believe they will be condemned by freedom and democracy advocates around the world."
Leung Yiu Chung, a member of the Legislative Council of Hong Kong, said "Information blockage is severe in China. If more non-governmental TV or radio stations were established, people in China would know more world news. Thus, I support NTD's extension of contract with Chunghwa Telecom."
Freedom of the press in Taiwan decreasing?
In 2009, NTD AP experienced satellite signal blockage while the Chinese regime celebrated its 60th anniversary. Satellite owner Chunghwa never explained why the blockage occurred.
NTD AP has asked Taiwan's regulatory National Communications Office to investigate whether its service termination has violated Taiwan's telecom laws.
NTD AP is known for broadcasting uncensored news about the Chinese regime. Ruey-lan Chang, CEO of NTD AP, "Much of the news across the strait is only reported by NTD AP. This is our responsibility to society. We hope the government can guard independent media, and protect our press freedom."
The report, "Freedom of the Press 2011" was released on May 3rd, World Press freedom Day. Freedom of the press in Taiwan declined to number 48 in the world.
International Federation of Journalists expresses concern to NTD AP's contract with Telecom
Hu Li-yun, Representative of the International Federation of Journalists in the China and Hong Kong Region, pointed out, "The reason for the contract cancellation is doubtable and worrying. Diversity is important. NTD's information is not available in mainstream media, but is related to the public interest. Why don't they give it a space to exist?"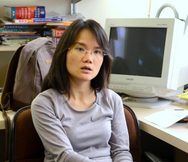 Hu Li-yun, Representative of the International Federation of Journalists in the China and Hong Kong region, calls on Chunghwa Telecom to explain the reason for the NTD AP contract cancellation
Ms. Hu believes that the incident will be a blow to Taiwan's freedom of the press. She said, "The current policy of the Taiwanese government towards the press includes indirect influence on many occasions. Such behaviour really make people worry whether the freedom of press is truly secure."
Ms. Hu calls on Chunghwa Telecom to uphold their business conscience, release the reason for the incident and continue their contract with NTD AP.
You are welcome to print and circulate all articles published on Clearharmony and their content, but please quote the source.