The 35th annual Hiroshima Flower Festival, one of the largest celebrations in Japan, was held this year in Hiroshima Peace Memorial Park on May 3rd.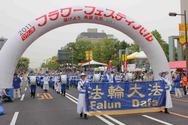 Falun Gong practitioners participate in the 35th annual Hiroshima Flower Festival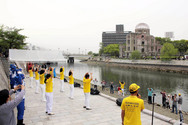 Demonstrating the exercises after the parade
The themes of this year's festival were "Proudly Bloom, Variety of Flowers, Smile and Peace." The organisers set up dozens of activities and dazzling stages. Every year, more than 1.6 million people come to the festival.
More than seventy groups participated in the festival parade on opening day. It was the tenth year that the Falun Dafa Association has participated in this parade. The powerful Divine Land Marching Band headed the Falun Dafa procession. Beautiful dancers followed the band, with graceful celestial maidens carrying lotus flowers, while handsome young men danced with flower rings in their hands. At the end of the procession practitioners demonstrated the Falun Gong exercises. Lion dancers joyfully played with spectators along the parade route. Young women practitioners distributed lotus flowers to spectators.
The Falun Dafa procession was enthusiastically received. Many people took pictures and video of the parade. Pointing to the Divine Land Marching Band, a spectator said, "They are wonderful!" When a practitioner told him that the band members are all Falun Gong practitioners from all over Japan, he was surprised and said, "Terrific! I'll cheer for them!" Many spectators asked for more information about Falun Dafa with great interest. Quite a few Chinese people said that they came to the festival specifically to see the Falun Gong practitioners.
The Divine Land Marching Band, the Falun Gong exercise demonstration and the lion dance troupe were part of the performance on stage at 5:30 p.m. Several people from the audience said that they would like to learn Falun Gong at a group exercise site.
The festival organisers set up activities to encourage support for the earthquake-stricken areas. Earlier this year, Falun Gong practitioners went to the earthquake-stricken areas to teach the Falun Gong exercises to earthquakes victims living in shelters, which brought people great encouragement and moral support.
You are welcome to print and circulate all articles published on Clearharmony and their content, but please quote the source.