On April 22nd, 2011, the International Student Festival was held at the Massachusetts Institute of Technology (MIT). The Falun Dafa Club was the only Chinese student organisation taking part in the event.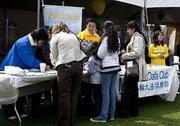 The Falun Dafa Club booth at MIT's International Student Festival draws teachers and students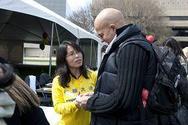 Talking about Falun Gong to a visitor (right)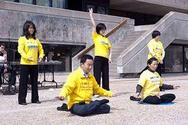 Falun Gong practitioners demonstrate the exercises
During the event, the Falun Dafa Club performed the Falun Gong exercises on stage, as the melodious exercise music and information about the practice were broadcast through the loudspeaker. The audience watched the exercise demonstration with great interest. A practitioner who had just come from China was pleased to share her experiences with others. She said, "In China, I was persecuted frequently for practising Falun Gong. In America, I can practice freely and can demonstrate the exercise at an event such as this. It is a big difference."
Chinese students also came to enquire about Falun Gong. Some of them told us about the lies that they heard in China about Falun Gong, part of the CCP propaganda. Many of them accepted Falun Gong informational materials from the practitioners.
A teacher from Maine was visiting her child who is a student at MIT. When she learned about the persecution of Falun Gong practitioners in China, she was indignant. She invited the practitioners to introduce Falun Gong and talk about the persecution at her school.
An older man from China stood beside the Falun Dafa Club booth and smiled and nodded. He said that he knew all about the CCP's evil nature and he agreed with Falun Gong's teachings.
Lisa Zvereva, who has worked at MIT for three years, expressed an interest in Falun Gong. She said that she would learn the exercises at the local practice site.
Artist Lauren Austin had just returned from China to visit her relatives. She said that she was interested in Falun Gong and after trying the first exercise, she said that she could feel strong energy in her body and she felt refreshed. Ms. Austin said that in China, artists also faced the risk of being arrested if they wanted to truly express themselves. She had tears when she saw a practitioner whose fingers could not stretch out even years after being tortured in China for persisting in practising Falun Gong. She said, "I love the Chinese people. But the CCP is not China."
You are welcome to print and circulate all articles published on Clearharmony and their content, but please quote the source.