At noon on April 24th, 2011, practitioners from the greater Washington DC area held group practice on Lafayette Square, one street away from the White House, to commemorate the 12th anniversary of the April 25th peaceful appeal of 10,000 practitioners.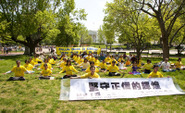 Group practice at Lafayette Square near the White House as part of local commemorations for the 12th anniversary of the the April 25th, 1999, peaceful appeal in Beijing
On April 25th, 1999, some 10,000 practitioners gathered outside the State Council Appeals Office in Beijing to demand their basic rights of belief. The peaceful resolution that came from the appeal amazed the world. The international community highly praised the event. Three months later, the regime's propaganda mouthpiece had twisted the April 25th peaceful appeal into a "siege of the central government compound" and used it as a way to turn public opinion against Falun Gong and to "justify" the nationwide crackdown that ensued. The brutal persecution has continued for 12 years.
Professor Nie Sen from the Catholic University of America said, "Over the past twelve years, Falun Gong practitioners in more than 100 countries and China have maintained kindness and perseverance demonstrated on the April 25th appeal, and made unprecedented efforts to clarify the truth and work against the persecution."
Peaceful and harmonious exercise demonstration at Lafayette Square drew a lot attention of tourists passing by. Adriana, a tourist from Brazil was very emotional and said that her older brother Raul in Brazil has started practising Falun Gong. She said that a doctor had suggested Raul to try meditation to cure his serious stomach problem. He tried several ways of meditation, but none of them worked. He started practising Falun Gong nine months ago, and his stomach problem was soon cured. Even the doctor felt amazed. Adriana said that Raul participates in group practice three times a week in Brazil.
Adriana said that she didn't expect to see Falun Gong in front of the White house. She posed for a picture with a friend in front of the practitioners' exercise scene.
Lauri, a tourist from Finland passed by the Lafayette Square and took photos of practitioners doing the exercises. He said that his friend in London also practices Falun Gong, and has practiced for one or two years. That friend told him that the practice is very peaceful, and conducive to concentration. Lauri said that it was the first time that he saw Falun Gong exercise, it looked really great.
Mr. Anand Varghese works in a non-governmental organisation in Washington DC said that he had learned about the persecution of Falun Gong over ten years ago. He said that the reports on the persecution have been disseminated everywhere around the world, although it is a sad news, it is very important. He added that he knew China's human rights record is very bad, particularly in terms of the treatment of Falun Gong. He believed that things will turn for the better one day, and hoped that Falun Gong practitioners' basic human rights be respected.
Mr. Varghese finds the Chinese Communist regime's brutal persecution of Falun Gong inconceivable. He said that it was the first time he saw Falun Gong exercises. He believed that Truthfulness-Compassion-Forbearance is a very good principle. He really couldn't see how this practice poses any threat to the Chinese government.
A Chinese tourist who immigrated to Florida last year from Nanning, China sat on a long bench at the square and quietly watched practitioners doing the exercises. She said that she had learned to practise Falun Gong in 1999, but just practised for a couple of days, the Chinese government started the persecution. She stopped practising ever since. She took a flyer and hoped to find a local practice site after returning home.
A Chinese man in his 60s came to the US to visit his relatives not long ago from Fujian Province, China. He said that he saw so many people practising Falun Gong from a far distance, and was drawn to the practitioners. He said that a local official working in the Political Consultative Committee recommended him to practise Falun Gong prior to 1999. He said he couldn't understand why the Chinese Communist regime persecutes Falun Gong. He sat on a long bench and read carefully the informational materials about the April 25th peaceful appeal.
Remy, an immigrant from Haiti who lives in Maryland, and her family passed by the square. They stopped to watch practitioners doing the exercises. Remy's daughter said, "How come haven't I seen it, or heard of it, the practice is important to me. It's what I'm interested. I even don't know, I seem to live in the dark."
After having learned that the Chinese Communist regime has persecuted Falun Gong for twelve years, Remy said that it was just because many people, like her family, haven't heard about the persecution. Only when more and more people are aware of the true situation, can they help stop the persecution faster.
You are welcome to print and circulate all articles published on Clearharmony and their content, but please quote the source.