Organised by the Falun Dafa Twin Cities Club, a three-day Truth-Compassion-Tolerance International Art Exhibit was held at The Great Hall at the University of Minnesota from March 28th-30th. The University of Minnesota community is international and diverse.
The Center for Holocaust and Genocide Studies at the university co-sponsored this third International Exhibition at the Great Hall. The exhibit displays 28 oil and watercolor paintings by over 10 Falun Dafa practitioner artists. Four of the artists depicted their first-hand experience of persecution in their artworks.
Through their paintings, the artists strive to express the beauty of cultivation practice, the brutal persecution of Falun Dafa, and the peaceful resistance of Falun Dafa practitioners. Some of these artists have won awards at the 2009 NTDTV Chinese International Painting Competition.
Since the Chinese Communist Party launched its brutal persecution of Falun Dafa in 1999, countless Falun Dafa practitioners in China have been facing arrest, homelessness, forced labor, torture, organ harvesting, and death.
The Great Hall is located at the Coffman Student Union, the University of Minnesota. Many students, faculty, staff, and visitors came to view the paintings. Visitors asked many questions and left comments about how they felt in the guest book.
| | |
| --- | --- |
| | |
| A student learning the Falun Dafa Exercises | A young visitor impressed by the painting |
Both non-Chinese and Chinese viewers asked many questions and expressed their feelings about the paintings: "Beautiful," "eye-opening," "inspiring," "amazing," "touched my soul and heart."
Visitors sympathised with the victims of the persecution and said it was hard to believe this persecution exists today. One viewer said, "I didn't know about this before and I hope to learn more and tell others who will also take action." Another said, "It is ridiculous if one says Falun Dafa is bad seeing these beautiful paintings." Many requested and took informational materials about the persecution. Some students reported that they are writing papers about Falun Dafa and that this exhibition was a precious resource for their papers.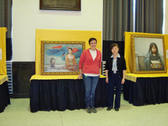 A student writing a paper on Falun Dafa
One afternoon, two Chinese students came and viewed the paintings carefully. One of them asked the other, "What will happen if I bring this poster back to China?" The two students wanted to buy a poster of one of the paintings but were hesitant. They left the Great Hall but came back again and bought posters and took copies of the Nine Commentaries on the Communist Party with them.
"So glad this exhibition came! Very beautiful, life as art! Taught me so many things I never knew before. This exhibition led me to ask questions with eye-opening answers. Thank you!" one viewer wrote in the guest book.
The Truth-Compassion-Tolerance International Art Exhibit has been presented in more than 200 cities in over 40 countries around the world.
You are welcome to print and circulate all articles published on Clearharmony and their content, but please quote the source.