On the morning of April 18th, 2011, the Taiwan Falun Dafa Association filed a criminal complaint with the High Prosecutor's Office against Wang Sanyun, the governor of Anhui Province in China, prior to his arrival in Taiwan. The association accused him of committing crimes of genocide, and requested the High Prosecutor's Office to make an urgent investigation and detain Wang. According to the World Organization to Investigate the Persecution of Falun Gong (WOIPFG), Wang Sanyun has commanded and directly participated in the persecution of Falun Gong practitioners since 2001. Wang initiated the "Hurricane-F" operation in 2002 while he was the deputy Party secretary of Sichuan Province. The campaign hunted down and arrested Falun Gong practitioners throughout the province.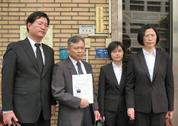 Taiwan Falun Dafa Association President Mr. Chang Ching-hsi (second to left) and a team of lawyers filed an indictment against Wang Sanyun at the High Court on April 18th, 2011
Following Guangdong Province Governor Huang Huahua, Shaanxi Province Governor Zhao Zhengyong, and Liaoning Province Governor Chen Zhenggao, Wang Sanyun is the fourth provincial level Chinese Communist Party (CCP) official who has faced charges upon visiting Taiwan. He is also the eighth high-ranking CCP official who to be sued by Falun Gong practitioners in Taiwan.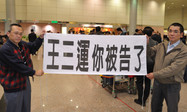 "You are sued" -- a banner held by practitioners at the airport greeted Anhui Province Governor Wang Sanyun who arrived in Taiwan on April 18th, 2011
Wang Sanyun arrived at Taoyuan International Airport in Taiwan around 11:00 am. More than 50 Falun Gong practitioners had come earlier, awaiting his arrival. The practitioners shouted, "Wang Sanyun, You're sued." Wang looked around, but didn't say a word. Those who came to meet him remained silent.
Several reporters questioned Wang loudly, "You've been sued in Taiwan, what do you think of it? Do you want to respond?" Wang left the airport without looking back.
Teresa Chu, spokesperson for the Falun Gong Human Rights Lawyers Working Group, said that Wang Sanyun has committed the crime of genocide and violated the United Nations International Covenant on Civil and Political Rights. The Legislative Yuan and fifteen city and county councils in Taiwan have already passed the motion not to invite, receive, or welcome CCP human rights violators.
Professor Chang Ching-hsi and the team of lawyers met with the prosecutor, and emphasized that the prosecutors drafted "The Crime of Genocide Ordinance," based on the "Convention on the Prevention and Punishment of the Crime of Genocide."
Yang Hsien-hung, president of the Taiwan Association for China Human Rights (TACHR) said that they were concerned about the issue of Wang Sanyun's visit to Taiwan. Yang stated that Taiwan, particularly, should check on human rights violations, and those who have bad human rights records should be denied entry to Taiwan.
You are welcome to print and circulate all articles published on Clearharmony and their content, but please quote the source.