The St. Louis Earth Day Festival celebrated annually in Forest Park is the oldest and largest celebration of its kind in the midwest. Practitioners in St. Louis have participated in this event every year to introduce local people to Falun Dafa, also known as Falun Gong, a spiritual practice that has enabled millions of people around the world to live by the principles of Truthfulness-Compassion-Forbearance.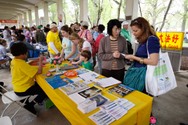 Practitioners introduce the facts about Falun Gong during the St. Louis Earth Day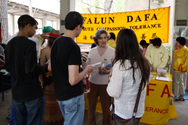 People listen carefully to the facts about Falun Gong at the St. Louis Earth Day
On April 17th, 2011, Forest Park had numerous visitors who were drawn by the annual Earth Day Festival celebration.
As in previous years, a steady flow of people passed by the Falun Gong booth. Many people were surprised to learn that the Falun Gong exercises are taught free of charge, and showed great interest. They enquired about practice sites, and wanted to learn the exercises on weekends. Practitioners told them how Falun Gong teaches people to be good by following the principles of Truthfulness-Compassion-Forbearance, and to face all kinds of challenges in life with a peaceful and compassionate mind. Many people were pleased to learn about this, and said, "This is what I want!"
However, such a good practice has been subjected to the Chinese Communist Party's (CCP) persecution since 1999, and tens of thousands of practitioners and their families have suffered under the CCP's inhuman persecution. Besides telling the visitors about the wonderfulness of Falun Gong, practitioners also let them know of the ongoing brutal persecution taking place in China. Many people said that they had heard about it, but they were shocked to learn that the persecution has lasted for so long and the methods employed are so barbaric. They also showed great sympathy for Falun Gong practitioners. They signed the petition and hoped to help stop the CCP's atrocities.
A lady in her 40s couldn't help shedding tears after hearing Mr. Chen recount how his parents were arrested and subjected to physical abuse and torture simply because they distributed Falun Gong related information to the public. She said that she would find out more about Falun Gong and the persecution after she returned home.
A high school student told practitioners that his classmate's parents suffered persecution for practising Falun Gong in China. Upon learning that practitioners in China had their organs removed when they were still alive, he said, "I've heard about it, the persecution is really cruel, and irrational."
An elderly man stopped in front of the Falun Gong booth. He told practitioners that he had been to China years ago when the persecution hadn't started. He saw people practising Falun Gong in parks, which was very impressive. He asked for contact information about practice sites, and wanted to learn Falun Gong.
Seeing the Falun Gong banners, a gentleman immediately walked up and asked if the persecution in China has been reduced. Upon learning that there is still no sign that the CCP has stopped the persecution, he sighed with emotion. He said that he had learned about the persecution at the very beginning when it started, but he never expected this senseless persecution to last for more than eleven years - and it is still ongoing. He signed the petition with his name and address, and also asked his wife to sign it. Before leaving, practitioners gave him a magazine with information about Falun Gong as a gift. He said he would let more people learn about the persecution and he hoped that it would end soon.
You are welcome to print and circulate all articles published on Clearharmony and their content, but please quote the source.