August 20, 2010 is Saint Stephen's Day, recognizing the founding of the Hungarian state over 1,000 years ago. The holiday coincides with the 41st Flower Festival of Debrecen, Hungary's second largest city. The European chapter of the Divine Land Marching Band was invited to perform at the flower festival. It was the first time for the band to go to Hungary.
Debrecen is located 140 miles east of Hungary's capital city of Budapest. It is a well-known tourist destination. The event attracted more than 300,000. The parade route covered almost 3.5 miles. There were three viewing stages along the route. Two parades were held: one in the morning and another in the evening.
Divine Land Marching Band leads the Falun Gong procession.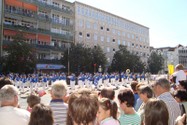 Spectators watch the Falun Gong parade procession.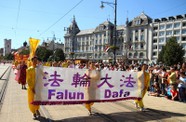 Spectators watch the Falun Gong parade procession.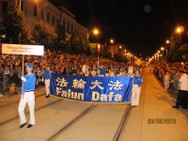 Falun Gong procession passes by the main viewing stage.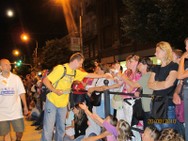 Spectators take Falun Gong flyers.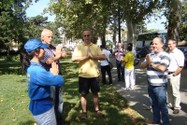 Tourists learn Falun Gong exercises.
At 7 am, crowds of spectators stood along the parade route. They were happy to see the band and Falun Gong exercise demonstration and dancers. Customers, shop owners and staff came out to watch the band.
The band played "Falun Dafa is Good", "Drums and Trumpets Shake Ten Directions", "Fa rectification of the Universe" and "Delivering Treasure". Their performance won applause over and over. Many people happily took flyers introducing Falun Gong and the persecution.
A member of the Green Party in the new government said, "We all know about the Chinese Communist Party's (CCP) persecution of Falun Gong. I am very sympathetic toward Falun Gong. Good luck. I am paying attention to Falun Gong and hope to get more information."
A tourist from the UK with a flyer in his hand said, "I am reading it. The persecution is shocking. I did not know before. I'll read more after going back. Your music is wonderful!"
A local TV station broadcasted the event live.
The parade finished inside a stadium. The parade processions walked around the stadium once and performed in front of the host's stage. When the Divine Land Marching Band played, many spectators waved their hands along with the music. On the host stage, there were politicians and representatives of other countries.
You are welcome to print and circulate all articles published on Clearharmony and their content, but please quote the source.