The Teatr Wielki/Great Theatre, located in Lodz, Poland, was the proud host of Shen Yun Performing Arts on June 14-16, 2010.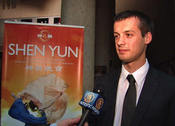 Mr. Urbanek is city councillor of Skierniewice, a city in central Poland. (Courtesy NTDTV)
Among the audience was Councillor Filip Urbanek, who attended the last Shen Yun performance held in Lodz, the third largest city in Poland.
He, like the thousands of other people in the audience, bid farewell to the Shen Yun performers with thunderous applause and a standing ovation.
Mr. Urbanek said he was very impressed with the show and was finding it hard to calm down from the excitement of having seen Shen Yun.
He thought the show was both very rich and colourful and was happy that the Polish people had a chance to experience it.
"I'm very happy that this kind of show has come to Poland. There were times when it wasn't possible. Today is different," he said, referring to the communist regime's occupation of his country, just 20 years ago.
Continuing his praise of Shen Yun and the moral values it exemplifies, Mr. Urbanek exclaimed, "These artists can tell us more about the things we have only in our memory. I'm happy they were warmly welcomed and were bade farewell with so many ovations. I hope that this climate will help to bring this culture―one of the oldest and richest in the world―from which we can draw great wisdom and truth. I hope it will flourish in Poland."
After experiencing a recent spiritual breakthrough in his life, Mr. Urbanek felt drawn to seeing Shen Yun, saying, "Not long ago I had a breakthrough in my life and it gave me courage to reach for spiritual values and look for deeper truths."
He also attended the show because he wanted to learn more about the meditative practice of Falun Gong.
"Falun Gong promotes the truths which would definitely help many people in daily life, and also resolve many world, human and government problems," he said.
Celebrity dancer describes Shen Yun as "Gratifying to the senses"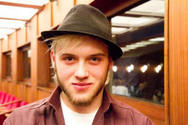 Maksymilian Hac, a professional dancer. (Jan Jekielek/The Epoch Times)
Among the many delighted guests in the audience was Maksymilian Hac, a professional dancer who became a national celebrity when he starred as a contestant on the fourth series of the Polish television show, You Can Dance.
"I'm sitting here, and the whole time I have a smile on my face," exclaimed Mr. Hac, as he described his experience of the Shen Yun show.
Mr. Hac spoke about an aspect of the dance sets that impressed him most, saying, "Here [in Shen Yun] there's more dynamic movement ... simple movements, performed by a group of 20 people with the appropriate musical accompaniment, and it makes a huge impression."
Commenting on the solo performances, he said, "When I heard the vocal soloists or the erhu player, I closed my eyes, and could sense how the audience is breathing, the stillness in the room."
Mr. Hac concluded by describing Shen Yun as "gratifying to the senses".
"Perfection," says Lodz Great Theatre ballet instructor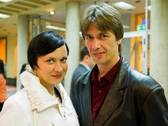 Victoria Golubieva and Vadim Domark, both ballet instructors at Lodz's Felix Parnell Ballet School. (Jan Jekielek/The Epoch Times)
Also in the audience were Vadim Domark and Victoria Golubieva, both ballet instructors at Lodz's Felix Parnell Ballet School.
Mr. Domark learned about Shen Yun while working at Great Theater, where he also instructs.
They were both were very impressed by how the performers worked together during each dance set.
"This is a group of Chinese professionals, not just the dancers, but everyone, working together as if they were one person," remarked Mr. Domark.
Ms. Golubieva hoped that Polish dance companies would one day reach this same level of cooperation as the Shen Yun performers.
"We did not achieve that [working as one person] yet, in Polish dance groups. We are working on it, though, trying to make it go as smooth as it did here."
Ms. Golubieva also remarked on the animated backdrops, saying, "There were very good backdrops, and it was great that there were dances from different regions of China. They were fascinating and amazing! The women's dances really had a unique atmosphere to them."
She described her experience of the show by saying that what she watched was a "divine ball."
Mr. Domark described the show in one word: "Perfection."
"It's classical Chinese dance and it's the first time I've seen this sort of show. Really ... It's a unique sort of world dance, an exceptional form of Chinese dance," he said.
Mr. Domark added, "It was very energetic. It touched my soul, I'm looking for the right words, yes my soul."
Sources:
http://theepochtimes.com/n2/content/view/37585/
http://theepochtimes.com/n2/content/view/37495/
http://theepochtimes.com/n2/content/view/37386/
You are welcome to print and circulate all articles published on Clearharmony and their content, but please quote the source.