Shen Yun Performing Arts was enthusiastically received at each of its three shows held at the Teatr Wielki/Great Theater, in Lodz, Poland, on June 14-16, 2010.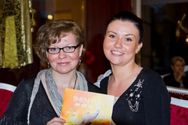 Former dancer Jzabela Polaszczyk with Melissa Beata.
Jzabela Polaszczyk, a former dancer with eight years of professional experience, was very moved by Shen Yun.
She described the Chinese dance techniques and movements in the show as, "Very nice, very delicate, very smooth and emotional, I would say."
Continuing, Ms. Polaszczyk said, "I was actually crying three times because of the singing--the first singer--the lady, and the music and the dance. I felt it deep from the heart, like the dancers are telling me a true story and it just touched me like that."
Making reference to the two dance sets that portray the Chinese communists' persecution of Falun Gong, she said, "When you see people who believe in something and the government doesn't like it, the people are bound to suffer. This touched me. As a human being, people should be allowed to have a belief."
The human rights abuses that Falun Gong practitioners are subjected to in China reminded Ms. Polaszcyzyk of Poland's history.
"I have heard from my mother and grandmother that due to communism, we experienced quite a similar history. It was a similar situation where people were being persecuted for believing in something during the communist regime, and exactly the same thing was shown in the [Shen Yun] show, and this really can touch the Polish people. It's the same issue: you cannot believe in whatever you want to in the communist regime--you can only believe in the communist program--and that touched me very deeply."
Shen Yun makes "an amazing impression"
Also in the audience were restaurant owners Maciej Dabrowski and Monika Dabrowska.
They both enjoyed the show and the opportunity to learn a little more about China's ancient culture.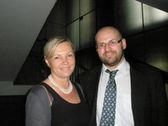 Restaurant owners Monika Dabrowska and Maciej Dabrowski both enjoyed the performance very much.
Mrs. Dabrowska said, "I think that it was a very spectacular performance. Many colours. The fact that there were so many people on the stage, made an amazing impression."
Her husband added, "I like the technical aspects of it, especially the amazing musical and dance preparations. I am under the impression that when you listen to it, the beauty becomes real and overwhelming to the point that it is difficult to describe it in words."
Mrs. Dabrowska thought the dance Flowing Silk was spectacular, with the ladies' long flowing "water sleeves" creating patterns of rippling water―a favourite element in classical Chinese dance.
Shen Yun is "a presentation of the true China"
Witold Gerlicz, who holds a Ph.D. in mechanical engineering, attended the show with his seven-year-old granddaughter, Victoria.
An architecture historian by profession, Mr. Gerlicz also holds the position of President of the Chamber of Commerce in Lodz.
Witold Gerlicz came with his granddaughter, Victoria
Out of a desire to learn more about China, Mr. Gerlicz decided to attend the Shen Yun performance with his granddaughter.
"I only knew China from the economical aspect; however, here we were presented with great Chinese culture. The point is, like the artists said, it was about the true Chinese culture," he said.
Mr. Gerlicz was pleasantly surprised to see this kind of performance. "I expected something completely different. I expected to see more of contemporary China than the great Chinese culture. We here in Poland, also went through it: there was a true Polish culture in the West and during that same period of time there was also the Soviet culture here. Here we were really shown the true--I think--Chinese culture."
Mr. Gerlicz was referring to a period in history when Poland was under communist rule. At that time, the government strictly censored all media publications and shows. Polish artists could not publish or present their works in public. As a result, they were forced to carry out their work in exile, mainly in Western Europe.
The Shen Yun orchestra, with its perfect blend of Chinese and Western instruments, greatly intrigued Mr. Gerlicz.
He was able to see music as a common denominator between the East and West. "It was a very beautiful fusion of Chinese instruments and instruments that belong to our European culture. It is a very interesting thing and it is very timely in the days of globalization; we all unite and we can speak with one voice."
Mr. Gerlicz described the overall show as "a presentation of the true China."
Sources:
http://www.theepochtimes.com/n2/content/view/37434/
http://www.theepochtimes.com/n2/content/view/37595/
http://www.theepochtimes.com/n2/content/view/37579/
You are welcome to print and circulate all articles published on Clearharmony and their content, but please quote the source.