Audience members in Istanbul very enthusiastically welcomed New York-based Shen Yun Performing Arts premiere to the city on Friday, May 21, at the magnificent Anadolu Auditorium.
Inspired by the spirit of an ancient culture, Shen Yun brings to life classical Chinese dance and music in a colourful and breathtaking show. Audience reaction was enthusiastic. Istanbul, known for its cultural diversity, is partly a UNESCO world cultural heritage and serves as European Capital of Culture for 2010.
Birim Güneri, who works as a German translator and has been a top manager's assistant for many years, said, "Tonight was such a wonderful night for me. I hope to watch this show again. The show made me very happy! The orchestra was wonderful also. Everything was beautiful.
"I was not expecting to see such an amazing night. I feel extremely happy right now," she said.
She also thought the Shen Yun Orchestra's unique composition of Western and Eastern music was amazing and said she experienced "a superb night."
Ms. Güneri wished Shen Yun the best of luck for the future, and hopes that they will travel around the world for many years to come.
In conclusion, she said she wished that more could see the show as the Turkish people would be "missing a lot" if they missed this chance.
"I will call all of my friends to inform them to attend the show. They must not miss such a wonderful show," she said.
'This tradition is a richness which belongs to all of humanity'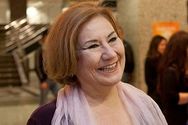 Gulsen Tuncer, a film and theatre artist and academic
Gülsen Tuncer, a film and theatre artist and academic, was also in the audience on Friday evening. Ms. Tuncer teaches acting and body language.
"It has been such a nice thing to meet with Shen Yun," the artist said. "We know that the Chinese culture is a very [deeply] rooted, ancient, colourful and sophisticated culture.
"What we have seen and what amazes me with this show is how they combined the Chinese tradition with technology. Thus a very nice stage performance is created.
"Besides these, what was interesting about the show was how they combined the Buddhist teachings with traditional dances. I believe that the Buddhist teaching is a big gain for humanity. Seeing a show like this is very educational at the same time."
In conclusion, she said, "Although this show is a product of Chinese culture and Chinese dancers, we see that this tradition is a richness which belongs to all of humanity. For this reason, as a richness of humanity, people feel very delighted when viewing the show."
Recommends Shen Yun to Others
Mr. Mehmet Büyükfirat came to see Shen Yun with his friend Mrs. Gülzan Aybasti. He said that he's always felt a connection with Chinese culture.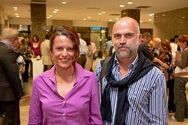 Mr. Mehmet Buyukfirat, who came to see Shen Yun with his friend Mrs. Gulzan Aybasti.
The golf player who has won a championship in Istanbul told us he really liked the Shen Yun performance and that it helped deepen his understanding of Chinese culture.
"This show reflects the Chinese culture purely and truly. I recommend to people interested in China to watch Shen Yun."
Ms. Aybasti was very glad that she had come to see the Shen Yun performance. It was the first time that she had come in touch with Chinese culture. "I'm surprised to see such a wonderful show here in Turkey! I'm very pleased and excited to have seen it. It is all interesting and exciting."
She added: "The show is very colourful and very imaginative. It is also very calming. You feel calmness inside after seeing the dances. One also sees the theatrical tradition of this culture in the show."
She also appreciated the music and the costumes, saying: "The music was lovely. And the costumes were very attractive. They quickly grab your attention. The combination with the backdrop scenes is also very good.
"While I was watching I had the thought that I should invite the ten year old daughter of a friend of mine. I think this show can enlarge the imaginative abilities of children".
Source:
http://www.theepochtimes.com/n2/content/view/35956/
http://www.theepochtimes.com/n2/content/view/35934/
You are welcome to print and circulate all articles published on Clearharmony and their content, but please quote the source.