ISTANBUL--On Friday 21st May, internationally acclaimed Shen Yun Performing Arts showcased ancient China's traditional values and cultural heritage at the auspicious Anadolu Auditorium, situated on the European side of Istanbul.
Two continents meet in Istanbul, where it blossoms on both sides of the Bosphorus Straight, the boundary that divides Europe and Asia.


Enjoying the performance was engineer Ismael Cinar who is working in Istanbul as a site manager.
Mr. Cinar makes a point of seeing music and dance performances wherever he finds himself and says he has seen "too many" shows in countries like Russia, Yugoslavia, parts of Europe and Arabic countries.


"This show was a magical music and dance combination.

 When I see a show, I'm looking for centralization. You know, if one part is not following other parts, [then] it's not good. But this was good." 


"It's incredible."


Though he had never travelled to China, Mr. Cinar knew a little of the language and his son, who lives in Shanghai, gave him some insight into the country. 


"He said there are two different Chinas: one really modern China, financial, economy, military, all these growing very high, but other part, you know, they are not very free about religion, about democracy, I [hope] they will be very free, I [hope] they will find democracy."


Mr. Cinar was invited to see Shen Yun by his friend. He said the show brought to light both ancient times and modern day China.


"When I see their dance, I can see their features, their religions, their normal life, what they are thinking," he said.


He would encourage others to see Shen Yun, saying, "If they want to have a magical experience, they can come here."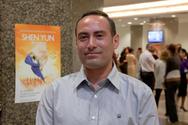 Ismael Cinar
"You can go home with a calm heart"
Among the crowd were John Chandler and Mesrure Tekoy. We asked them during the break how they liked what they had seen so far.
Mr. Chandler, who is the Dean of Robert College in Istanbul, said about Shen Yun: "It is different--very interesting, very enjoyable". He also found the dances to be "very well choreographed. They are obviously wonderful young dancers", he added.
His companion, Ms. Tekoy, told us: "I enjoyed watching the show. After this show, you can go home with a calm heart."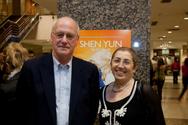 John Chandler and Ms. Mesrure Tekoy
Mr. Inal, his wife and daughter also came to see Shen Yun. Istanbul was named European Capital of Culture for the year 2010. Before his retirement, Mr. Inal worked for a trading company and travelled to China several times, so he came to see what Shen Yun had to offer when they were advertising themselves as a "Renaissance of the traditional Chinese culture".
"I deeply sensed the calmness," he said after watching Shen Yun. "The music, dancing, costumes--everything in the show are impressive", he said. "It was all put together very well."
They also brought along their 8-year-old daughter to see the show together. She especially liked the dancing very much. Asked if he would recommend the show to his friends, Mr. Inal said:
"Yes--Everybody, go and see Shen Yun!"
Sources:
http://theepochtimes.com/n2/content/view/35973/
http://theepochtimes.com/n2/content/view/36041/
You are welcome to print and circulate all articles published on Clearharmony and their content, but please quote the source.