The Shen Yun Performing Arts Touring Company recently travelled to Belgium where they continued to dazzle audience members at Louvain-la-Neuve's Aula Magna on Saturday, May 8, 2010. Tshiala Yves, a Brussels-based lawyer, surprised accountant Patricia Banza for her birthday, with tickets to the show.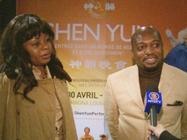 Tshiala Yves, a Brussels-based lawyer, and Patricia Banza, an accountant.
Mrs. Banza was very pleased with her birthday present. "This show has opened my mind to Chinese culture, the richness of this country, the diversity of everything that can be seen as cultural richness, the dances, the colours, mostly the differences between regions, because, depending on the scenes, some things would come from North, or Mongolia, or South, or the lakes area," she said.
Mr. Yves said that at first he wasn't sure if he had selected the right birthday gift, but after seeing the look in her eyes, he knew he had done the right thing. "A pleasing night, that's the least we can say."
Mr. Yves said he also appreciated learning about China through the show. "I think it was the first opportunity to approach and attend this kind of performance. We were even more delighted since this show had the goal of introducing the traditional culture, and we weren't deceived. I personally like philosophy. Confucius is one of my favourite philosophers," he said.
He said the show has a spiritual aspect as well. "I have seen a deep message at some point. The performance showed how human beings have gotten lost in a modern world," he said. "I linked these dances and the sopranos, the translation of some sentences simply philosophical ... I think there was even a sentence drawing the fact that atheism got us lost, but that finally, at least as I could feel it, we could still hope, and reach beyond ourselves and find the strength, the hope ... ."
Source:
http://theepochtimes.com/n2/content/view/35236/
You are welcome to print and circulate all articles published on Clearharmony and their content, but please quote the source.