NEUCHATEL,Switzerland-On May 13, Shen Yun Performing Arts Touring Company's opening performance at the Théâtre du Passage was a full house and met with resounding applause.
Patrice Neuenschwander, cultural delegate of the city of Neuchatel, joined the enthusiastic audience and expressed his delight in the show.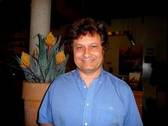 Patrice Neuenschwander, cultural delegate of the city of Neuchatel
"I have very much enjoyed this show which glorifies ancient China and its values."
"This is a truly magical show, the colours are really extraordinary, the costumers are fantastic, the technique of both the male and female dancers are also quite remarkable. It's really a beautiful spectacular."
As the cultural delegate for the City, Mr. Neuenschwander deals with different cultural performers and artists such as theatre and dance groups and writers. He is also in contact with twin towns and the Federal Office of Culture and his counterparts in other cities through the Conference of Swiss Cities and Cultural Issues.
Mr. Neuenschwander said that he has welcomed many different shows to Neuchatel, but noted that Shen Yun is quite special.
"This one is special in that it conveys a culture that we aren't used to coexist with here in Europe and that we might have a bit forgotten," he said.
"I discovered one part of the Chinese culture that I didn't know about."
The show, Mr. Neuenschwander said, is a "grand extravaganza of colour and movement."
'I Discovered a China Much More Joyous and a Culture Much More Profound'
Among the captivated audience was Isabelle Migliorini, a practitioner of traditional Chinese medicine, who found in the dances great complexity, subtle details, and an extraordinary lightness, particularly with the flowing sleeves in Heavenly Maidens. "This show brings a certain uplifting element," she said. "I find that it reflected more of the ancient than of that China which I am familiar with. I recognize the ancient Taoist origins; I love it."
Madeleine Bauther, a retiree, was enthralled by the show. "The Chinese culture has always interested me. This evening I discovered the religious aspect of this culture, the tolerance." She greatly enjoyed the superbly choreographed pieces, especially the Tibetan Dance of Praise, remarking that "it brings forth so much." She also commented on the beauty of the costumes and their colors, as well as the stage and unique backdrop. She was moved by The Emperor Ushers in a Glorious Age, the opening scene in which the deities descend to earth. "I found this passage very well done," she said.
Barbara Egger, Executive Secretary, recently became interested in China. In watching Shen Yun, she was struck to discover the many different aspects of China from so many different regions. "This show does not reflect what one sees of China on television," she said. "This evening, I discovered a China much more joyous with a culture much more profound. The spirituality which emerges does not resemble ours. These goddesses, for example, bring a magical dimension that I appreciate very much." She also found the themes to be very universal. "I found that this show transmitted values of the family, and of standing together," she said.
'There is Hope'
Suzanne Langelle, a German-English translator, was also among the audience on Thursday evening. She said she was impressed with many different aspects of the show.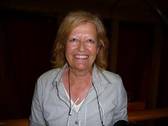 Suzanne Langelle
She said Shen Yun presents "a summer of Chinese life," and is an "escape from the enclosed world of China."
"There is also another part that shows you that in any critical situation, there is hope," she said.
'It is Rare to See a Show Like That!'
Mr. Aubé was deeply touched by Shen Yun and said watching the show gave him an insight into traditional Chinese culture.
Mr. Aubé was touched by the performances
He said, "It is true that it is an attractive, colourful show, it is true ... one knows that China is a country ... which is ... very difficult to live and then you feel this emotion in the dancers and all ... it gives us something from the bottom of the heart."
"It's true that China, for me, is a distant country for us, and then you feel this emotion, like I say ... ah, it's difficult to express but it leaves me very emotional."
Many audience members world wide have said that they are touched by Shen Yun Performing Arts and find it hard to express their feelings--Mr. Aubé was no exception.
"It is rare to see a show like that!" he exclaimed.
Source:
http://theepochtimes.com/n2/content/view/35463/
http://theepochtimes.com/n2/content/view/35428/
http://theepochtimes.com/n2/content/view/35422/
You are welcome to print and circulate all articles published on Clearharmony and their content, but please quote the source.