New York State Assemblyman Michael Fitzpatrick, along with his wife and daughter, attended the Shen Yun Performing Arts show at Radio City Music Hall on February 13th, 2010.
"The colours, the choreography, the movement, the scenery - which was just interesting and fascinating - I really enjoyed it, and I would certainly encourage everyone to come and enjoy the show. It is outstanding," he said.
He continued, "The singing, the sopranos and the tenor; they were wonderful. Every dance routine I enjoyed."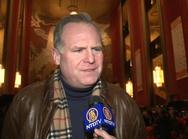 "I would certainly encourage everyone to come and enjoy the show," said New York Assemblyman Michael Fitzpatrick
Mr. Fitzpatrick talked about the show's underlying message, saying, "It's just a message of hope, inspiration, determination - which I think is important. They were just phenomenal, phenomenal.
"I love the message, it's so important. It really was just very exhilarating. [China is] a beautiful country, beautiful people, beautiful music, and a beautiful show."
He concluded by saying, "It was just a fantastic ... enjoyable day. It was so interesting," he said. "It's just great to be here. This was a wonderful experience."
UN Diplomat calls Shen Yun show "Ethereal"
A diplomat with Trinidad and Tobago's United Nations mission, Ms. White attended the show with her husband, Mason White, who is a retired schoolteacher.
Describing the Tibetan dance, Tibetan Dance of Praise, she said, "I thought that was very nice, ethereal, it was light."
Ms. White said that she found the Shen Yun music "really very soothing," and that she appreciated it very much.
Commenting on the 3-D digital backdrop, Ms. White said, "What I liked about it was that it related very much to each dance theme, it's colourful, and it looks very clean and bright."
Mrs. White thought the show's emcees were the necessary "bridge" for understanding the different performances. "You re-focus, and then you go to something different. They create a space in terms of each performance," she said.
Mr. White thoroughly enjoyed the show, too, saying, "I thought the choreography was exquisite, and the synchronisation was great because the person upfront has to be assured that those behind him are doing exactly what they are supposed to do."
Former actress: "I'm taking the whole show home"
Former dancer and actress, Ms. Rogers, said she was very inspired by the show. "I thought it was amazing, actually - the integration with the film and the dancers and the music. I thought that was really amazing."
Referring to the two performances that depict scenes of Falun Gong practitioners being persecuted in communist China today, she said, "I'm very familiar with the story of Falun Dafa, so that was very heartfelt for me. I think I liked those stories the most."
When commenting on the costumes, she said, "All the movement and the flowing, and the - what were they? The handkerchiefs? Awesome. They were like boomerangs! I don't know how they did that, but yes, I really, really enjoyed the show."
Ms. Rogers ended by saying, "I'm just taking the whole show home! I think I'm going to be replaying it on the train."
Source: http://www.theepochtimes.com/n2/content/view/29631/
http://www.theepochtimes.com/n2/content/view/29665/
http://www.theepochtimes.com/n2/content/view/29681/
You are welcome to print and circulate all articles published on Clearharmony and their content, but please quote the source.