Members of the Light of Asia Society - one of the organisers of Shen Yun Performing Arts shows in France, held an event at noon on January 29, 2010, near the Chinese Embassy in Paris, to publicly expose the Chinese Communist Party's (CCP) interference with Shen Yun shows around the world. Upon learning of the situation, passersby condemned the CCP's actions and many said they would make sure to attend the upcoming Shen Yun performance in Paris.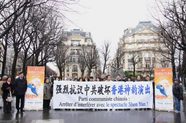 Organisers of Shen Yun Performing Arts shows in France protest in front of the Chinese Embassy against CCP interference in Shen Yun shows worldwide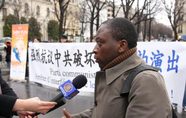 Ely Smith, a reporter for Telesud TV
Ely Smith, a Telesud reporter, covered the event. Mr. Smith stated, "I don't understand why the CCP government has always said, on the one hand, that it should protect the Chinese culture, and on the other hand, it opposes a performance that showcases China's glory." He was chagrined to learn that Hong Kong has gradually been drawn under CCP oppression only thirteen years after Hong Kong's return to China.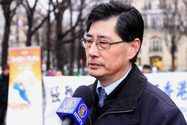 Mr. Hu, Chairman of the Light of Asia Society
Mr. Hu, chairman of the Light of Asia Society, revealed to the media that just a few days ago, the Chinese Consulate in Lyon, France called the theatre where Shen Yun is performing and demanded to know the names and addresses of the organizers of the Shen Yun shows. The theatre refused to provide this information because they believe that this is private information.
Mr. Hu said, "In 2007, in order to try to force the theatre to cancel our contract, they took piles of gifts to the person in charge of the theatre, attempting to bribe him. The person in charge is a righteous person, and he told these Chinese lobbyists, 'This is France, a free country. You absolutely cannot do such a thing. I will not accept your gifts either. Please take your gifts home.'"
The Light of Asia Society in France was scheduled to hold a press conference on the morning of February 1, in Lyon, to expose the strategies that the CCP has been employing in their attempts to sabotage Shen Yun performances worldwide.
You are welcome to print and circulate all articles published on Clearharmony and their content, but please quote the source.