On January 16th, the Shen Yun Performing Arts New York Company presented two Shen Yun shows at the Cobb Energy Performing Arts Centre and received standing ovations from the audience.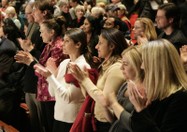 Shen Yun performers received standing ovation from the audience
Cindy is a Chinese Image Consultant. After seeing the matinee show on January 16th, she said that she was very touched and had a feeling of returning home. She applauded Shen Yun Performing Arts for spreading the beautiful Chinese culture to the West and suggested that all Chinese people should see the show.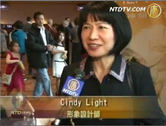 Cindy Light, image consultant
She said: "The show was very beautiful, the use of colour was brilliant, and the skills of the dancers were excellent. After leaving China so many years ago, I am very touched to see this show. I came from Western China. The Tibetan dance and the beautiful landscape are so dear to my heart, they gave me a feeling of returning home. I am so pleased to see such a great show."

Mr. Ye Wenshu, president of Atlanta Taiwanese Association
Mr. Ye Wenshu, president of the Atlanta Taiwanese Association, said that the show was indeed fantastic and represent a unusual artistic spirit.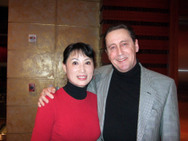 Rainbow and her husband
Rainbow and her husband enjoyed the show. She said: "I danced when I was young. I learned Tibetan dance and Mongolian dance. Classical Chinese dance requires tough practice and even a most simple walking technique requires long time practice. So, I can tell that the dancers must have practiced very hard to have such high achievement."
Ms. Zhang said that the programme was astonishing. She was particularly touched by the act "Splitting the Mountain." "This act impressed the most. The little boy was very courageous as he split the Ha Mountain to save his mother. It was very uplifting to the spirit."
Mr. and Mrs. Zhu have seen Shen Yun for three consecutive years. Mr. Zhu said: "This is the best show that we have ever seen in our 50+ years."
You are welcome to print and circulate all articles published on Clearharmony and their content, but please quote the source.