Before Christmas, Ruhr Nachrichten, a local newspaper in Dortmund, published a story about a Chinese family, titled "A Chinese Man's Happy Time in Dortmund".
The Guo family, of Chinese origin, lived 5000 miles apart. They were recently reunited in the German city of Dortmund. The family just celebrated their first Christmas together.
Alas, the Guo family – husband Jufeng, wife Hailing, and their young son Fangzhou – wasn't quite ready for the German joviality and geniality. Hailing said, "Guo reflects during these times on the ordeals suffered in China, because he was persecuted there for a very long time."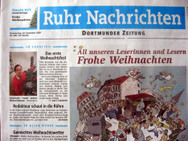 Chinese happiness under the Christmas tree (RN-Photo: Menne)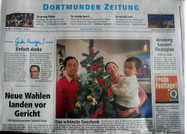 The Guo family in the newspaper
The Guo's greatest present is that they were able to celebrate Christmas in Dortmund as a family, because they had been separated for a very long time. The father, Jufeng, had just ended an unhappy part of his life. The 36-year-old man had packed his suitcases on January 8, 2008, in his hometown, Yingkou City, a large Chinese city, and left for Germany without his pregnant wife.

The family was reunited in 2009 and celebrated Christmas as a family.
"Please come in," requested Mr. Guo Jufeng. He wanted to tell us in person about his personal Christmas happiness. We meet a smiling Ms. Guo in the small apartment's living room in the northern part of town. She is holding little Fangzhou in her arms, and he watches us with curious big eyes. We also notice the little Christmas tree.
It was a little plastic tree that was bedecked with one Easter egg. But the Guo's are perhaps celebrating the greatest Christmas of their entire lives, because they are again a family, here in the city of Dortmund. Alas, it is far away from their home country and the Chinese city of Yingkou. But, the story we hear from the happy father could have ended totally differently.
"I practise Falun Gong, and, for the Chinese Communist Party, the regime holding power in China, this practice is anathema." The adherents of this mediation practice are brutally persecuted, tortured, and even murdered.
Leaving the Home Country
"I myself suffered harassment and pain in a slave labour camp," he said and showed us photos of his dead friends. "I couldn't continue to live like that and had to leave China.
The decision, supported by his wife with a heavy heart, had been made. Guo Jufeng, an engineer, took a job in the subsidiary of a German car distributor and left his home country on January 9, 2008, 21 days before the birth of his son, Fangzhou.
The Guo's were separated by 4,961 miles and the father was alone in a totally foreign environment. The mother raised little Fangzhou on her own and the difficult times put the family to the test.
By mid-July 2009, after countless letters and back and forth, the Chinese regime allowed Guo Heiling, 37-years-old, and little Fangzhou to emigrate from China. "I had a hard time believing it when I met both of them at the airport for the first time since our separation," said Jufeng with happiness shining from his eyes.
The family Guo learned again to live as a family after mother and son arrived in Dortmund. "We are permitted to live and work here. We enjoy the freedom here, and we feel we are at home," shared the Guos.
Mr. Guo not once had doubts about his decision. "We have done everything just fine."
He lets go of his sad thoughts when remembering his dead friends. The head of this family is very happy and grateful to celebrate Christmas with his wife and son in Dortmund. He lights the candles and takes his wife and son into his arms – Merry Christmas.
You are welcome to print and circulate all articles published on Clearharmony and their content, but please quote the source.