Canadian Prime Minister Harper is scheduled to visit China for the first time in December 2009. Several members of Parliament and senators called on the Prime Minister to put forward China human rights issues during his visit, especially the persecution of Falun Gong.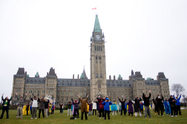 On November 25th, 2009, Falun Gong practitioners in Canada gathered in front of parliament and called on Prime Minister Harper to raise the issue of the persecution of Falun Gong and help release 14 relatives of Canadians being imprisoned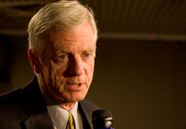 David Kilgour, Former Secretary of State (Asia-Pacific) for Canada
Mr. Kilgour, Former Secretary of State (Asia-Pacific) for Canada, said in the press conference, "David Matas and I visited about a dozen countries to interview Falun Gong practitioners sent to China's forced labour camps since 1999, who managed later to leave the camps and the country itself. They told us of working in appalling conditions for up to sixteen hours daily with no pay, little food, being cramped together on the floor for sleeping, and being tortured. They made export products, ranging from garments to chopsticks to Christmas decorations at times as subcontractors to multinational companies. This, of course, constitutes gross corporate irresponsibility and violations of WTO rules and calls for an effective response by all governments who are trading partners of China."
MP Keith Martin gives a speech in the rally
MP Keith Martin said at the rally, "I do think that Mr. Harper has an opportunity and a responsibility to bring up human rights abuses and the persecution of Falun Gong in China when he travels to Beijing. In particular he has a chance to advocate for those practitioners of Falun Gong who have family here in Canada that he can specifically ask for the release of those individuals. And I certainly hope he does that. As the PM of Canada he has a responsibility to defend the interest of Canadian citizens and he must do that for those family members who are here, whose loved ones have been incarcerated in China for simply being Falun Gong practitioners or those who are simply fighting for the basic human rights that most civil people should be able to enjoy freely."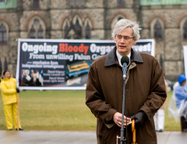 Mr. Bill Siksay, Chairman of Friends of Falun Gong in Parliament
Mr. Bill Siksay, Chairman of Friends of Falun Gong in Parliament, said, "I think [our government] could be clearer. We could raise it [persecution of Falun Gong] more often. But Canada has taken a clear stance on China in the past and I hope that they will do that again. We can't have good trade policies without good human rights policies. They go hand in hand, and so the government has to do both when they meet with Chinese officials.
"I hope that the PM does specifically raise the situation of Falun Gong practitioners. That's very important. I also think he needs to specifically raise the 14 cases of Canadians who have relatives in China who have either been imprisoned or have disappeared. It's very important that he gives those families the security and knowledge that their government is supporting their concerns for their family members, so I hope he raises those cases specifically."
MP Irwin Cotler helped secure the release of Falun Gong practitioners Zhang Kunlun and Lin Shenli who were imprisoned and persecuted in China.
He said during a recent interview, "I always regarded the Chinese civilization as a great civilization, a civilization that espouses the very values that the Falun Gong has affirmed, values of compassion, tolerance, forbearance. So rather than seeing the Falun Gong as a group that contributes to the well-being of Chinese society, the Chinese government has singled them out as targets for repression.
"And someone like Kunlun Zhang is a case-study of what has been an ongoing process of what I would call the criminalization of innocence.
"Well I think some ten years later after the Chinese government singled out a group for arbitrary arrest, illegal detention, beatings and detention, torture, unlawful imprisonment, wrongful convictions, all the things that attended Professor Kunlun Zhang's arrest, detention and imprisonment have been visited on the Falun Gong as a group. It's a tragedy."
He continued, "I think it's important that we support the Falun Gong as a group, because even where you have people not yet been arrested and the like, they may still be subjected to all forms of discrimination and harassment. So what we are seeking, as I say, is equality before the law. What we are seeking is protection for the human rights and human dignity of the Falun Gong. And we are hopeful by coming together as a parliamentary association rather than working as we've been doing as individual parliamentarians, we would have a collectivity that will be better positioned to be able to be supportive of the Falun Gong and thereby make representations to the government, to the Canadian government, that in their bilateral relations with the Chinese authorities, they will bring up the individual cases of imprisoned Falun Gong, particularly those who have a Canadian connection as they bring up the plight of the Falun Gong as a whole, as they discuss it all within the framework of the integrity of our bilateral relationships."
MP Rob Anders, and Senators Consiglio Di Nino and Borys Wrzesnewskyj also expressed their concerns on this issue.
The Canadian Falun Dafa Association delivered a letter to Prime Minister Harper, calling on him to help stop the persecution and secure the release of 14 Canadian relatives during his visit.
You are welcome to print and circulate all articles published on Clearharmony and their content, but please quote the source.