On Saturday, September 19, 2009, Falun Gong practitioners from West Yorkshire in the UK went to the busy Leeds city centre to expose the persecution of Falun Gong happening in China, and at the same time, offer help to Chinese people who wanted to quit the Chinese Communist Party (CCP) and its affiliated organisations.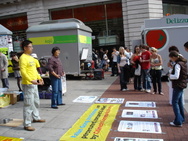 Passers-by learn the facts about Falun Gong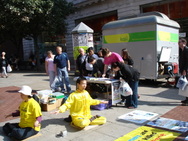 Many people sign a petition condemning the CCP's persecution of Falun Gong
During the day's activity, practitioners demonstrated the peaceful, beautiful Falun Gong exercises as many people stopped and watched. People were shocked when they learned how the CCP persecutes Falun Gong practitioners in China after seeing display panels spread on the ground. A continuous flow of people came to sign a petition condemning the CCP's persecution and supporting Falun Gong practitioners. At times there was a line of people waiting to sign.
After signing the petition, one young man told a practitioner that he was normally very numb to leaflets given to him, but he was completely drawn by the information distributed today. Upon seeing a practitioner doing sitting meditation, he felt as if his thoughts froze. He said that he felt a revolution of human culture was taking place. From his own experience, he could feel that a certain kind of energy did exist in his body. He said that if he could use positive thinking, a positive energy could thus play a positive role, and this would be fully reflected his relationship with others. He is very interested in Falun Gong, and said he would surely read the main book of the practice, Zhuan Falun He also expressed his hope that he could do the exercises with the practitioners.
After reading the display boards, a middle-aged woman from South Africa told a practitioner that she had a teaching job in Shanghai, China two years ago. She kept saying, "I know, I know what the policemen are like there, and I will tell this to more people."
Many people came to sign the petition. When one young woman had finished signing, the exercise music had just stopped. When practitioners opened their eyes, she started clapping her hands for the practitioners and gave them a thumbs-up with tears in her eyes.
Upon seeing the practitioners doing the exercises and reading the display boards, a middle-aged woman seemed somewhat puzzled, and asked, "What are you doing here then?" A practitioner was about to explain to her when she suddenly understood, saying, "Oh, you are here for other people!"
Many Chinese people from China also came to read the display boards and take leaflets. A total of 52 Chinese people from mainland China quit the CCP and its affiliated organisations during the event.
You are welcome to print and circulate all articles published on Clearharmony and their content, but please quote the source.