Upon seeing Shen Yun Performing Arts for the first time as it graced the stage at the Théâtre du Léman in Geneva, Switzerland, many audience members shared that they were deeply moved by the performances. Mr. Labarthe, a theologian, said he was inspired. "It was wonderful and perfect, very substantial," he said. "The message was very important."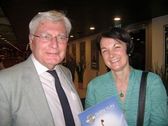 Mr. Labarthe, a theologian and Anita, a yoga teacher
Mr. Labarthe reflected upon the profound impact the show has, well beyond its presentation in a theatre setting. "The spiritual message was apparent. This was good for China, for Chinese culture and everything that China is worthy of, the real China, the ancient China," continued Mr. Labarthe. "I was profoundly touched by a lot of things that were said."
Accompanying him was Ms. Anita, a yoga teacher. "Me too, it really touched me a lot," she said. "I found there was a great purity and grace in each [piece] of the choreography and in the message that they wanted to get across. I'm telling you, it really touched me."
The opening curtain reveals a celestial scene of divine beings gathered in preparation for their descent to earth. The Five Millennia Begin sets the stage for what is yet to come. The show ends with a message of hope as the ascent to heaven begins in Knowing the True Picture Offers Hope.
Mr. Labarthe, who has studied theology all of his life, said he is, "an eternal student of things spiritual," and he said he was "moved several times" during the show. "I absolutely loved the last lyrics, 'true understanding, 'ultimate hope,' I agree with that."
Anita added, "For me, it was really important to see a show like this, and it was a great chance for me to see it in these times because things aren't going well, and it gives a message of peace. It is a magnificent show, really magnificent."
Shen Yun: 'Brings a message of love, peace and tolerance'
Mr. Bago, a school director, was moved by the beauty of the show: "It is a colourful, vibrant show with beautiful technique. ... It was magnificent!"
His wife, a teacher, agreed. "It was magnificent, really very nice. It's was performed wonderfully; the singers were great as well."
Of the music, Mrs. Bago said: "It's a flawlessly fluid music, even when there were drums. It was dazzling to the eyes, very pleasing--a great discovery."
Mr. Bago most especially wanted to share with others that, "The show brings a message of love, peace and tolerance, and that is really important!"
You are welcome to print and circulate all articles published on Clearharmony and their content, but please quote the source.