On August 15, 2009, a group of Turkish Falun Gong practitioners held a rally in Istanbul's famous Taksim Square to expose the Chinese Communist Party (CCP)'s criminal persecution of Falun Gong. They called on the Turkish people to help to put an end to the decade-long brutal persecution.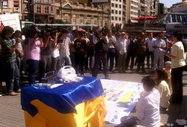 Turkish Falun Gong practitioners held a rally in the city centre of Istanbul. A practitioner was interviewed by a local media outlet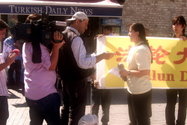 Turkey's largest newspaper Free Press interviewed Falun Gong practitioners
Exercise demonstration by Falun Gong practitioners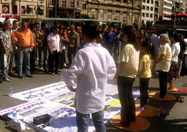 People were attracted by the peaceful Falun Gong exercise
Over the weekend, many people went to the square. Falun Gong practitioners displayed large banners reading "Falun Dafa is good", "Disintegrate the CCP", and "Stop the persecution". They also set up a poster display about Falun Gong and how it has spread worldwide, as well as showing how the CCP is persecuting Falun Gong. The event attracted many visitors who stopped to view the posters.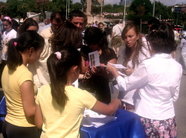 People taking flyers to learn more about Falun Gong and the persecution
At three o'clock in the afternoon, a practitioner spoke to the crowd about Falun Gong, talking about the physical and mental benefits gained from the practice and its worldwide spread since 1992. The practitioner also talked about the CCP persecution of Falun Gong. Since July 1999, the CCP has been taking extreme measures to try to "eradicate" Falun Gong". The most appalling crime has been the harvesting of organs from living practitioners for lucrative profits. The practitioner called on the Turkish government, the media, and people from all walks of life to help put an end to the brutal persecution.
The event lasted an hour and a half and gained support and concern from many local people and tourists who signed the petition condemning the CCP's persecution.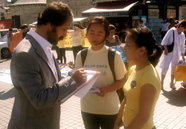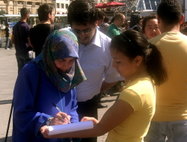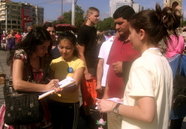 Signing the petition in support of practitioners' resistance to the persecution
A few police officers on duty near the event broke their professional habit of keeping silent and said to the practitioners, "You are doing a great job!"
It is difficult to get permission to hold an event in Takism Square under normal circumstances. By thoroughly explaining the situation, practitioners eventually obtained support and approval from the Istanbul city government, the local council and security bureau, and other departments.
Three of Turkey's largest news agencies – IHA, Cihan and Dogan News Agency, ATV, and Show TV stations – as well as Turkey's largest newspaper, Free Press (Hurriyet), dispatched reporters to cover the event.
You are welcome to print and circulate all articles published on Clearharmony and their content, but please quote the source.