On April 25, 1999, ten thousand Falun Gong practitioners appealed peacefully at the National Appeals Office in Beijing. On the tenth anniversary of the April 25 Appeal, Falun Gong practitioners in Great Britain held a peaceful protest in front of the Chinese Embassy in London, calling for an end to the persecution by the CCP, and to mourn their fellow practitioners in China who have died from the persecution.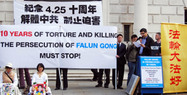 Peaceful protest in front of the Chinese Embassy commemorating the April 25 Appeal
Falun Gong practitioners held a march from the Chinese Embassy to Chinatown after the protest. They called for people to see clearly the nature of the CCP and to withdraw from its organizations. They held pictures of persecution victims and banners stating "Falun Dafa Is Great," "Stop the Persecution of Falun Gong," "The World Needs Truthfulness-Compassion-Tolerance," "Commemorating the April 25 Appeal. Disintegrate the CCP. Stop the Persecution," "Falun Gong Practitioners Are Killed in China," and "Supporting 53 Million Chinese Withdrawing from the CCP [and its affiliated organizations]." Many people on the street stopped to watch the march, and many expressed their support.

Falun Gong march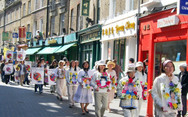 Falun Gong march

Two girls express their support
After the march, the practitioners did group exercises, distributed newsletters and collected signatures on St. Martin Square. Many people went over to the display which exposed the persecution and signed in support of efforts to end the persecution. A Falun Gong practitioner said that more and more people have learned about Falun Gong.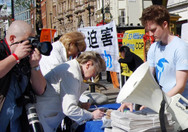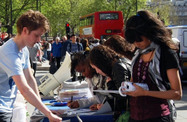 London residents sign in support of ending the persecution
You are welcome to print and circulate all articles published on Clearharmony and their content, but please quote the source.