On December 14th, 2008, the annual Christmas festival exhibition was held at the town of Ylitornio in Northern Finland. Local Falun Gong practitioners saw an opportunity to raise awareness about Falun Gong and expose the Chinese Communist regime's nine-year inhuman persecution against Falun Gong practitioners. They also appealed to people to do what they can to stop this persecution.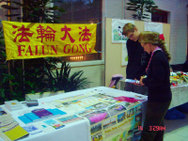 People find out about Falun Gong
Falun Gong practitioner Xiao Jin and her husband rented a stall. They displayed posters showing how Falun Gong has spread to over eighty countries around the world and information boards exposing the Chinese Communist regime's brutal torture of Falun Gong practitioners.
The exhibition was a great success and was extremely well attended by both local people and those from neighbouring towns. Many people signed the petition calling for an end to the human rights abuses against Falun Gong practitioners in China. People were very keen on learning what Falun Gong is and the details of the persecution. Xiao Jin explained to them warmly and also offered people beautiful paper lotus flowers she personally made to thank them for their support.
After signing the petition, an elderly couple carefully read all the posters. Afterwards, they brought many of their friends to sign the petition.
After learning that many innocent Falun Gong practitioners have been detained and tortured in China for their belief, a young girl called Tina couldn't believe such atrocities still occur in China. She signed the petition to show her support for Falun Gong.
After a while, Tina appeared before the stall again. She brought many of her friends with her to learn about Falun Gong. She also helped to inform other people about the truth and collected petition signatures until the exhibition ended. More and more people gathered around the stall to learn the truth.
Xiao Jin talked to an elderly gentleman called Marko about her mother Chen Zhenping, who is being illegally detained in the detention centre in Zhengzhou of Henan Province because she practises Falun Gong. The detention centre forces her to do over fifteen hours slave labour every day, making cigarette lighters for export. Recently the Chinese Communist regime secretly sentenced her but the regime refused to give her family the written judgement and also refused to give her lawyer the notice of appeal. Her lawyer has requested many times to visit her, but his request was repeatedly rejected.
After hearing this personal story, Marko was very moved and signed the petition. He gave Xiao Jin a hug and said to her, "Justice always exists!"
Xiao Jin replied: "Yes. My mother's lawyer told me on the phone that he would use legal means to help Chen Zhenping to win her rights back all the way to the end."


You are welcome to print and circulate all articles published on Clearharmony and their content, but please quote the source.