June 26th was International Anti-Torture Day. During a rally with the theme "Torture Is Terrorist Action" organised by Amnesty International, Vice President of the European Parliament Mr Edward McMillan-Scott gave a speech. He said, "I am very pleased to see that the European Union has issued a statement against torture. We know that torture in China is widespread and this must stop."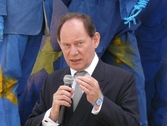 Vice President of the European Parliament Mr Edward McMillan-Scott speaks at the Amnesty International activity
He continued, "The main reason I am here today is two years ago, I met China's former prisoners of conscience and human rights activists in Beijing. Later they were all arrested and imprisoned by the Beijing regime. At least three of them suffered torture, especially a young man Cao Dong. He is currently imprisoned in a prison in Northern China. He has been tortured. We know who did it. We know all that happened. I congratulate Amnesty International for initiating this activity and raising concerns about these victims of torture.
"Today I remember people I met in Beijing: Niu Jinping and his wife Zhang Lianying, they suffered torture. I also remember the renowned human rights lawyer and a Christian Gao Zhisheng. He was subjected to torture for forty four days this year in order to silence him about the Olympics. When the Olympic Games are getting closer, there are still over seven million people suffering torture in China's prisons and labour camps. 'Torture Is Terrorist Action', the Chinese Communist regime is a terrorist regime."
He indicated during the interview that He met Falun Gong practitioners Cao Dong and Niu Jinping in Beijing. They suffered persecution just for their belief. Niue Jinping and his wife both suffered torture. Cao Dong told me about his ill treatment in the prison, especially his testimony about a Falun Gong practitioner who was also his friend. After disappearing from the prison one night, he saw him again in the prison hospital. There were holes in his body after his organs were taken."
He said: "I already submitted the testimony to the UN special commissioner on torture and special commissioner on freedom of religion and belief respectively. I think at the moment it is very important to pay attention to these individual cases because the Olympic Games are soon to be held in China. I am very pleased to see that the European Union issued a statement against torture. We know that in China torture is widespread and this must stop."
On June 25th this year, in the congress by the European Parliament Human Rights Committee, Mr Edward McMillan-Scott also made special inquiries to the UN special rapporteur on torture Mr Manfred Nowak about the torture and imprisonment suffered by Falun Gong practitioners Cao Dong, Niu Jinping, Zhang Lianying and human rights lawyer Gao Zhisheng.
Mr Edward McMillan-Scott is one of the most senior members of the European Parliament. He has devoted great efforts in dissolving the Communist regimes and promoting the advancement of global human rights and democracy. He is well known and respected in the European Union. He has been very concerned about the persecution suffered by Falun Gong practitioners. In recent years, he has unceasingly and strongly condemned the Chinese Communist regime's persecution, and appealed to all communities to stop the regime's terrible action.


You are welcome to print and circulate all articles published on Clearharmony and their content, but please quote the source.