On June 25, 2008, Falun Gong practitioners in Australia gathered at the Chinese Embassy in Canberra to protest against the nine years of persecution against Falun Gong, and the assaults committed against Falun Gong practitioners in Flushing, New York.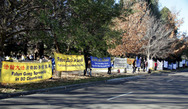 Protesting in front of the Chinese Embassy in Canberra, Australia
Fan Jiazhong, spokesperson for the Falun Dafa Association in Australia, said the Chinese Communist Party (CCP) is using the earthquake in China as an excuse to incite hatred towards Falun Gong practitioners. The Chinese consulate hires thugs in Flushing to attack practitioners and volunteers at the service centre for quitting the party. He said the violence is not tolerable and must be stopped, and he pointed out that the CCP spreads lies to confuse Chinese people into supporting its brutal persecution of Falun Gong practitioners. He hopes that overseas Chinese people will recognise the CCP's tricks. He also called upon the Australian government to take note of the CCP's assaults against practitioners in Australia.
Ms. Zhang Cuiying, a Falun Gong practitioner, said that on May 20, she saw the assaults in Flushing, New York. She said in the following week, she tried to clarify the truth of Falun Gong to people. She felt sad for those who were deceived by the CCP and hoped they would learn the truth.
Ms. Zhang Cuiying said the CCP is exporting the persecution against Falun Gong to other countries, and the persecution in China is getting worse. She was imprisoned in China for eight months because she shouted "Falun Dafa is good" in public. She was badly tortured in the prison, but thanks to help from the Australian government, she was rescued and went back to Australia. She said, "Many more practitioners in China are not so lucky. One of my relatives, who is also a Falun Gong practitioner, is jailed in the Shiliping Forced Labour Camp in Zhejiang." She called for help to stop the persecution.
Many Chinese tourists saw the protest and took photos. After the protest, practitioners went to downtown Canberra, where they held banners and gave out leaflets.
You are welcome to print and circulate all articles published on Clearharmony and their content, but please quote the source.