On June 12th, 2008, Mr. Andrzej Czuma, a senior member of the Polish parliament held a press conference in his congressional office about an attack on a Falun Gong practitioner by a Communist Party supporter. Ms. Zhang Xi, the Falun Gong practitioner who was attacked, was specially invited to talk about her personal experience of being harassed and threatened with death by a pro-Communist Chinese. The Falun Gong Association, The International Association of Human Right and some others also attended the press conference. Many media such as the Polish News Agency, Polish State Television, RMF radio, NTDTV and Epoch Times arrived at the scene and were interviewed.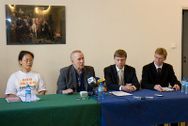 The News Conference attendees from left to right were: Zhang Xi, Mr. Andrzej Czuma, a Polish Member of Parliament, Mr. Jekielek, a Polish representative of The International Association of Human Rights and Mr. Marcin Klebba, a spokesman for The Falun Gong Association.
Ms Zhang Xi who has lived in Poland for fourteen years was attacked at Wolka Kosowska, wholesale shopping centres near Warsaw in which there are majority of Chinese businesses. Previously, Ms Zhang went to the shopping centre distributing Chinese Epoch Times every week. Everybody in this area knows that she is a Falun Gong practitioner. Nothing unexpected had happened before this incident.
On the noon, Saturday of June 7th Ms Zhang saw an unfamiliar woman at the shopping centre. As usual, most Chinese who go shopping at the centre know each other, so Ms Zhang wanted to say hello to her. They both came towards and passed by with nothing happening.
A few minutes later, the woman (later identified by stores, her name is Lei Wu) came near to her from behind, snatched several newspapers and tore they up. When Lei Wu wanted take some more newspapers, Zhang stopped her and did not allow her to do so. It was just this moment that Lei Wu first pushed Ms Zhang and then beat her on the back. Very quickly, they two were separated. Ms Zhang kept on distributing newspapers.
Ms Zhang's hands were injured when she protected the newspapers.
Two hours later, a woman called Wu Xiaoxia started screaming at Ms. Zhang, who was later identified by local stores, she is Lei Wu's mother. Lei Wu also soon appeared at the scene and ready to attack Ms Zhang again. When Ms Zhang took out her camera, Lei Wu was stopped by her mother. At that time, Lei Wu said with threat that she would kill Ms Zhang.
Some business in the shopping centre expressed that Lei Wu used to work in the Chinese Embassy in Poland. Three days before this attack, Ms Zhang made a speech in the event of The Passing Global Human Rights Torch, which was held in front of the Chinese Embassy and her speech was seen to be recorded by someone in the Embassy.
Ms Zhang has already reported the case to the local police station and police are investigating the incident.
On June 12th Mr. Andrzej Czuma, a Polish MP who held and hosted the news conference about this harassing incident is a pioneer in the pursuit of democracy and freedom in Poland. And he used to be persecuted for many years in Communist Party's prison and he is recognised as a former Polish solidarity hero.
You are welcome to print and circulate all articles published on Clearharmony and their content, but please quote the source.