The opening of the second Asian Pacific American Heritage Month was held at Franklin Square in Philadelphia on May 17th, 2008. More than 30 Asian groups from the Greater Philadelphia area attended the activity. Falun Gong practitioners also had a booth there.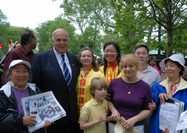 Edward G. Rendell, the Governor of Pennsylvania, in a photo with practitioners

Governor Rendell signing his name to support Falun Gong practitioners
Truong N. Phuong, a member of the Governor's Asian Affairs Committee, accepts materials from practitioners and has his photo taken with them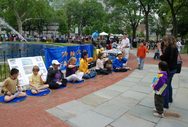 A reporter from a local newspaper photographed practitioners demonstrating the exercises
Edward G. Rendell, the Governor of Pennsylvania, came to the activity in the afternoon. He gave a speech and praised the Asian community's contributions. He accepted printed materials and a lotus flower from Falun Gong practitioners and signed his name to support the practitioners.
The Governor's Asian Affairs Committee has 15 representatives from different Asian communities. Mr. Dhillon, a member of the committee from India, was drawn by the practitioners' demonstration of the exercises. He said that he wanted to learn more about Falun Gong and learn the exercises. Speaking about the persecution, Mr. Dhillon talked about his personal experiences with the Communist party and condemned the persecution.
Mr. Manny Alam, a member of the committee from Pakistan, came to America 35 years ago. He is a manager of a big auto parts company and a human rights activist. He is the chair of two human rights organizations. He expressed his sympathy to Falun Gong practitioners and also condemned the persecution.
Many people came to the practitioners' booth and signed their names to support Falun Gong. Some of them asked for more information.
Asian Pacific American Heritage Month (APAHM) is celebrated in May to commemorate the contributions of people of Asian and Pacific Islander descent in the United States. Congress passed a joint Congressional Resolution in 1978 to commemorate Asian American Heritage Week during the first week of May. This date was chosen because two important anniversaries occur during this time: the arrival of the first Japanese immigrants in America on May 7th, 1843, and the completion of the transcontinental railroad (by many Chinese labourers) on May 10th, 1869. Congress later voted to expand it from a week long to a month long celebration.
You are welcome to print and circulate all articles published on Clearharmony and their content, but please quote the source.