May 13th has become a global festival which is celebrated all over the world. To celebrate the day when Falun Dafa started to spread widely, some Falun Gong practitioners from Norway, Stockholm, Gothenburg and some other cities in Sweden gathered in Stockholm and held a series of activities for two days in Kungstradgarden, Vasa Museet. They celebrated World Falun Dafa Day, wished founder Master Li Hongzhi happy birthday, and raised awareness about Falun Gong and the persecution to local people by taking this opportunity.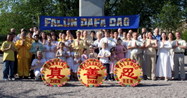 Falun Gong practitioners wish the founder of Falun Gong a happy birthday!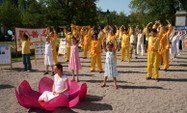 Falun Gong practitioners demonstrate the five exercises of Falun Gong
On 10th of May, surrounded by blooming tulips in Kungstradgarden, large banners worded with "Falun Dafa Day", "Falun Gong" and "Truthfulness, Compassion and Tolerance" and wreaths were so particularly eye-catching that they attracted crowds of passers-by. They stopped and watched, among them were tourists from all over the world.
The activities of celebration lasted over five hours and they were songs and dances, exercises demonstration, truth clarification boards, lotus flower folding.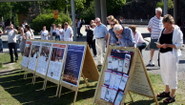 People are carefully reading information boards
Falun Gong practitioners from different ethnic and age groups were demonstrating the five sets of Falun Gong exercises to the public with beautiful music and the host kept introducing the characteristics of Falun Gong and the grand occasion that it is being practised in over 80 countries.
Both Chinese and western practitioners talk about the benefits of practising Falun Dafa
Anders, a Dafa disciple from Gothenburg, likes music from his childhood but he is a very introverted person. He said, for many years, he had been looking for something in his life. Before practicing Falun Gong, he had practiced many other forms of Qigong. In 1995, it was by chance that he found Falun Gong. He found that he had found the best. Falun Gong has not only solved all problems he had but also changed the whole of his outlook on his life. It is already thirteen years past. When someone asks him: "As a foreigner, why are you so much interested in this Chinese traditional exercises"? He thought for a while and said: "Truthfulness, Compassion and Tolerance" has already taken root in my mind."
Christina, a dance teacher, lives in Alvika in west of Sweden. Today, together with her husband and her three lovely daughters, she came here by driving more than five hours. With other young disciples, her daughters presented a beautiful Lotus Flower Dance. She said that Falun Gong has brought them happiness and peace. Since practicing Falun Gong, she has become more dedicated to her work and more tolerant to her families. She was calling on kind hearted people to help stop the CCP's cruel persecution of Falun Gong practitioners and their family members in mainland China.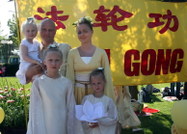 Christina, her husband and her three lovely daughters
Hao Xiulan, who used to work in Jilin Provincial Committee in China and later was rescued to Sweden by the Organisations of Rescue in the United Nations, told her own experience after cultivation and disclosed the CCP's persecution of Falun Gong practitioners in China by using real facts. She was twice put into prison by police. Three of her fellow practitioners with whom she was familiar have been tortured to death, some have been sentenced to prison and some have been repeatedly imprisoned and forced to do heave labour. She hoped that Swedish people could clearly understand the evil nature of the CCP and not to be deceived by its false impression on surface, with kind people in the world, send out the voice of justice and together end this most brutal atrocity happening in Chinese history.
People, one after another, are signing the petition against the persecution and saying: "No!" to the CCP.
It is already nine years since the CCP used such brutal means persecuting this group of practitioners who believe in "Truthfulness, Compassion and Tolerance", about this, Swedish people do not understand. They, one after another, signed the 2008 "Millions of Signatures" Petition, which is launched by the Coalition to Investigate the Persecution of Falun Gong in China (CIPFG) composed of more than 400 parliament members, lawyers and some other people from five continents.
Sam Parise, a black music star, who ever saw the last performance by Shen Yun Performing Arts Group on 3rd of April, also came to the activities with his four-year old son.
Sam Parise has been traveling around the world for 12 years and giving performance in many famous theatres in the world. Although he does not understand Chinese, he could feel the sincerity of each song from Shen Yun Performance. He understood by listening to songs and remembered "Dafa is Good". He felt very gratified when he signed the petition today.

Sam Parise and his four-year old son sign the petition
Bjrn Netf, a very special person who signed the petition, is 59 years old. He not only filled out all contents in detail required by the form but also neatly wrote down the name of his friend and contact information.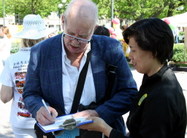 Bjrn Netf, a psychologist, sign the petition against the persecution
He told the practitioner, the name of his friend is George B Martin, a historian and is 82 years old. He has been engaged in the development of human rights in an institute of human rights and development research, lived in China for 15 years. Bjrn Netf himself is a psychologist. He often talks about history and human rights with this friend of his. He friend often tells him: "As a human being, he should not only have his basic right but also his own obligations. This is also a person's responsibility. This responsibility is that you should bravely stand up when needed." He quite agrees with this view. He still added that he was quite clear about the problem about human rights in China, knew something about the persecution of Falun Gong but he had never imagined the persecution is so cruel. He said: "Stop the persecution! This is from bottom of my heart:" He still recommended that practitioners get in touch with his friend in order to further explore specific measures about the improvement of China' human rights.
Those who signed the petition today are from Germany, Finland, France, Russia, Kazakhstan, Sweden and experts, scholars, professional boxers, students, retired workers, and other sectors of the community. People solemnly signed their names in support of justice and kindness and saying no to the CCP.
On 11th of May, Falun Gong practitioners again came to Vasa Museet holding activities promoting and demonstrating the exercises, and clarifying the truth to local people. Mars, a Falun Gong practitioner from Stockholm, expressed: "We will, as always, clarify the truth and have more people know the truth so that they can recognise the evilness of the CCP and quit it as early as possible. Thus they can have a good future! This is also our responsibility and obligation."
You are welcome to print and circulate all articles published on Clearharmony and their content, but please quote the source.