A Chinese lady who married into France said to a reporter, "I was a dancer in mainland China. The performance was absolutely perfect. From choreography to costumes everything was beautiful."
Her husband, Martial Dumaurier, is a manager at an engineering firm in the construction industry. After seeing the performance at Le Palais des Congrès in Paris on the 1st of March, M. Dumaurier also commented happily, "Stunning, poetic and colourful. We seemed to have been transported to China far away."
The performance that night met with the audience's raving reviews:
Another audience member, M. Emmanuel Vavich, a manager at an internet company, said delightedly, "This was a magnificent and well edited performance with marvellous scenes and gorgeous dances, which was a good approach for those of us who do not know China very well."
M. Vavich continued, "I find it interesting the way it dealt with the Falun Gong issue. We were presented with poetic scenes yet at the same time reminded of Falun Gong and political issues in China. With the Olympics fast approaching, we will boycott China's censorship. I know a little bit about Falun Gong as it is often reported in news on TV."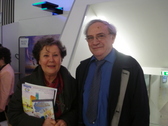 Sylvain and his wife Colette are retired clerks. Their impression of the performance was "perfect, absolutely perfect"
His wife Colette said, "Harmonious, colourful and pleasant. The orchestra was imposing, adding substance to the performance and the dances. I enjoyed it very much. Also I felt the colours, decoration, backdrops, directing, were all very unique. I liked it very much."
Sylvain also praised the comperes that spoke both Chinese and French. Colette added, "Very pleasant. The lyrics were clearly shown. We have no regrets. We will come again."
According to Colette, they knew nothing about the Divine Performing Arts group before, "We only wanted to see the show, which was indeed awe-inspiring. I overlooked Chinese dance and I know nothing about Chinese dance, which was the reason why I was pleasantly surprised. I think it was amazing."
Sylvain used to play the violin. He said, "I have never heard an Erhu. It was remarkable. I liked it very much. The combination of Chinese and western musical instruments were very harmonious and fabulous."
He concluded, "Thank you Divine Performing Arts for bring us such an outstanding performance."
You are welcome to print and circulate all articles published on Clearharmony and their content, but please quote the source.