On the evening of March 4th, many gathered at the Theatre du Leman in Geneva for the Chinese New Year Spectacular.
The Spectacular opened with the dance "Nymphs of the Sea." As the curtains parted, sky-blue ribbons undulated in the hands of the dancers, conjuring up an image of the ocean.
The show ended with "Victory Drums" and a curtain call for the performers. A woman in the VIP section stood up and gestured to the audience to encourage their applause. To the performers' surprise, renowned Swiss violinist Armene Stakian and a representative from the Traditional Chinese Cultural Arts Renaissance Association, which was one of the host organizations, presented a music box to the Divine Performing Arts Company in appreciation of their efforts.
After the show, many said that they enjoyed "Nymphs of the Sea" because it was so lively. Both the colors and movements reminded the audience of the vast sea.
One of the host organizations of the show, Traditional Chinese Cultural Arts Renaissance Association, presented a gift to the Divine Performing Arts Company for its contribution to restoring traditional Chinese culture.
Mr. Rafael Barbosa, a commerce official from the Colombian Embassy, attended the Spectacular with his wife. He said about the show, "Just wonderful. This is my first time seeing a Chinese performance. It was so beautiful, well done and perfect." He particularly enjoyed "Nymphs of the Sea" and the show's music. Mrs. Barbosa's favorites were the drum performances "Drummers of the Tang Court" and "Victory Drums." She called them "very exciting." Mr. and Mrs. Barbosa said that they would recommend the show to their friends.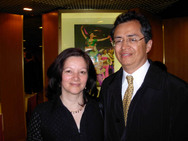 Mr. Barbosa and his wife
A woman who wished to remain anonymous said that she enjoyed the show and its rich colors. She said, "I really liked the instrument with two strings (erhu). There is no such instrument in Europe. The melodies were beautiful, and I really enjoyed it." She also spoke highly of the orchestra, which combined Chinese and Western instruments. She also praised the unique backdrop of beautiful colors. She said that she was able to understand the context and background of the performances easily with the hosts' explanations, which enhanced her enjoyment. Many others echoed this sentiment.
Another woman from the audience said, "The show was so beautiful! We liked all the dances. The dancers, singers, as well as the hosts, were outstanding. I will come back again. Thanks very much."
You are welcome to print and circulate all articles published on Clearharmony and their content, but please quote the source.