At noon on February 23rd, hundreds of Falun Gong practitioners from different countries held a parade in Los Angeles to urge the world to take action to end the brutal persecution of Falun Gong in Communist China and encourage people to quit the Chinese Communist Party (CCP).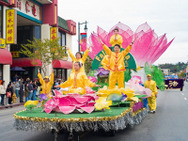 Practitioners demonstrate Falun Gong exercises on a decorated float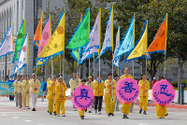 Falun Gong flags send clear message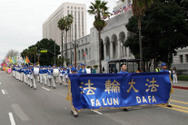 Celestial Marching Band

Practitioners in white dress hold Chinese practitioners who died in the persecution to expose the CCP's atrocities

"CCP to be destructed by Heaven" banner sends clear message to passersby
The parade consisted of the Divine Land Marching Band, a Waist Drum team, a decorated float, and celestial maidens. Starting at City Hall, the parade marched through Chinatown attracting many passersby. Among the many banners and flags displayed by the practitioners, there were giant banners which read "The World Needs Truthfulness-Compassion-Tolerance", and "Stop the Persecution of Falun Gong". There was also a somber group of women practitioners wearing white dresses. Holding photos of Chinese practitioners who lost their lives in the persecution, their procession touched many spectators. Many of them took videos or pictures of the parade.

Robin Bradley and Jeff Bradley admire the courage of the parade participants
Robin and Jeff Bradley came from Orange County and ran into the parade procession in Chinatown. Robin was very happy to see the parade. Repeatedly, she raised her thumbs or applauded to express her support for the practitioners. "I hope they will soon be able to parade in China," she said.
You are welcome to print and circulate all articles published on Clearharmony and their content, but please quote the source.