The annual Christmas parade organised by Pine Rivers Shire City Council in Queensland was held on December 8th, 2007. Falun Gong practitioners were invited for the second time to participate in the event. Practitioners radiated peace and serenity and also presented traditional Chinese culture with their performances, which earned warm applause from local residents.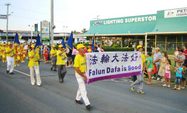 Falun Gong practitioners' flag and drum troupe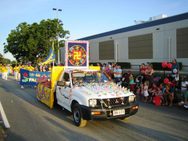 Falun Gong practitioners' float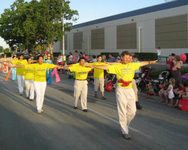 Falun Gong practitioners' exercise demonstration team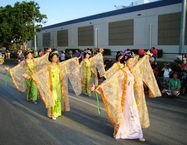 Dance in Tang Dynasty costumes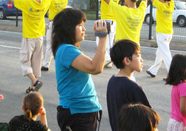 A spectator took video of the Falun Gong procession
The Falun Gong contingent was composed of several dozen practitioners. The flag and drum troupe led the procession. Closely following was a float decorated with a Falun emblem and lotus flowers, a Falun Gong exercise demonstration team, and a dance team of "celestial maidens" in Tang Dynasty costumes. The Falun Gong procession stood out with their graceful demeanour and wonderful performances. Spectators continued to applaud and wave to greet the practitioners. Many people took photos or video of the practitioners in the parade.
Prior to the parade, an older couple Mr. and Mrs. Gray, who live near the starting point of the parade, watched the practitioners rehearse. Out of the goodness of their hearts, they brought ice water and cups for the practitioners. The older couple said that the practitioners' performances were beautiful, and they hoped to be able to see them next year in Pine Rivers.
You are welcome to print and circulate all articles published on Clearharmony and their content, but please quote the source.