The annual Christmas Parade kicked off at 2:00 p.m. on November 17th, 2007 in Wellington, the capital of New Zealand. There were 78 entries this year, and one of them was Falun Gong (also called Falun Dafa) . It was the first time that they made an appearance in the parade, and their lineup was very eye-catching.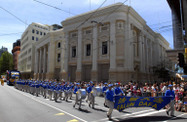 Falun Dafa practitioners first participate in Wellington Christmas Parade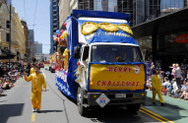 Falun Dafa practitioners demonstrate the exercises on their beautifully decorated float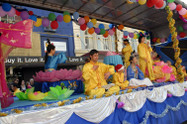 Falun Dafa practitioners demonstrate the exercises on their beautifully decorated float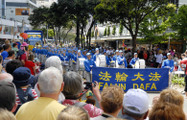 Spectators enthusiastically watch Falun Dafa practitioners' contingent in the parade
It is well-known that the Chinese Communist Party (CCP) slanders and smears Falun Gong, and exerts pressure and entices governments of different levels in free societies overseas, in an attempt to expand the persecution of Falun Gong outside China. In the past years, Falun Gong practitioners in New Zealand have applied to participate in the Wellington Christmas Parade and have been rejected, because the Wellington City Council allegedly regarded Falun Gong as a "political group," and excluded Falun Gong from any large-scale activities organised by the city council.
On November 2nd, 2007, Falun Gong practitioners filed for a judicial review in the High Court of Wellington with the help of a renowned human rights lawyer, accusing Wellington City Council of four major breaches of the Bill of Rights Act. Being charged in court, and in the face of all opinions and pressure from the outside world, the Wellington City Council decided to approve Falun Gong practitioners to take part in this year's Christmas Parade. As soon as the decision was released, column writer Brian Rudman from the largest newspaper in New Zealand - the New Zealand Herald - published a commentary entitled "Victory for Falun Gong." He hoped that organisers of the Annual Christmas Parade in New Zealand's largest city Auckland will also put aside politics and offer an opportunity for Falun Gong practitioners to participate in that parade.
The Wellington Christmas Parade set off at 2:00 p.m., with the procession marching along three of the busiest streets in Wellington. Spectators were packed on both sides of the streets. When Falun Gong practitioners' Divine Land Marching Band and float appeared in the procession, many people were amazed. They cheered and applauded.
Falun Gong practitioner Mr. Liu said that he was very happy to participate in this year's Christmas Parade, celebrating Christmas and ushering in the New Year together with citizens, and at the same time, bringing Falun Dafa's beauty to the people. He said the truth will destroy the CCP's lies against Falun Gong and people will see for themselves what Falun Gong is about.
A spectator said that he felt very surprised, and had never expected to see such a large band from the Chinese community. He felt fortunate to see their performance, and was impressed by it.
A lady from England kept saying, "Wonderful, wonderful", in reference to the Falun Gong contingent.
Another spectator said that the colours and music were very beautiful. This is not politics. Falun Gong is their belief. Everyone in a free society should be allowed to participate.
An overseas student from China said that he could not see Falun Gong in China, but he saw it in New Zealand.
You are welcome to print and circulate all articles published on Clearharmony and their content, but please quote the source.