At noon on October 28th, 2007, a rally supporting the Global Human Rights Torch Relay was held in Baltimore, Maryland. The exhibition portraying how the Chinese Communist Party (CCP) is removing organs from living Falun Gong practitioners shocked passersby and medical experts from the American Society of Plastic Surgeons attending a conference.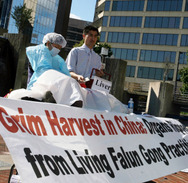 Demonstration of organ harvesting from living Falun Gong practitioners shocked passersby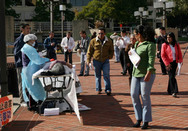 Demonstration of organ harvesting from living Falun Gong practitioners shocked passersby

People ask for details of the persecution in China
A couple of blocks away an international conference for plastic surgeons was being held at the Baltimore Convention Center. Many medical experts who passed by the demonstration displaying how live organs are removed were shocked. Some of them said this was the first time they had heard of the CCP removing living Falun Gong practitioners' organs and selling them for profit.
A girl from Brazil was shocked by the pictures of torture and organ removal. That was the first time she heard of such brutal persecution.
A couple from Wisconsin stayed at the scene for a long time. They knew China had human rights problems but didn't know how serious it was. The lady said that it was depressing to know that such horrible crimes were happening in today's society and felt that people should boycott the 2008 Olympics in Beijing. The couple, who own a restaurant, took a lot of truth clarification materials with them to let their families and friends living in Wisconsin and Chicago know about the ongoing crimes.
Ms. Li from the Baltimore Korean community held a banner that read in Korean, "No Human Rights, No Beijing Olympics." She said that many Koreans in Baltimore don't understand English and she wanted to pass this message to the Koreans.
Caring about Falun Gong Practitioners Tortured By the CCP
Guests from different nationalities, reporters, doctors, victims of the persecution and China issue experts gathered at the rally and paid close attention to the CCP's human right violations, especially the issue of live organ removal from Falun Gong practitioners. US representative Elijah Cummings sent a letter of support the Human Rights Torch Relay.
A senior reporter who came from Philadelphia to attend the rally, Chen Dongde, said that he learned from the news that many rich people from Vietnam and Thailand went to China for kidney transplants. It normally takes them as little as two weeks to get transplants. He also saw a lot of reports on how the CCP removes Falun Gong practitioners' organs. Those people had to know the transplants had come from Falun Gong practitioners. "This is too brutal and too evil," he said.
Dr. Pang Yubin, a medical doctor, said. "In a very short time, the number of transplants in China rose to number one in the world, which is the same time the CCP started persecuting Falun Gong. I personally know a doctor in China who's done more liver transplants than the total number of liver transplants done in the biggest hospital in Boston; it's even higher than the number of transplants done in the entire country of Germany."
Ms. Donna Ware, contact person for CIPFG in Washington DC, called on the international community to help the children of Falun Gong practitioners persecuted in China. She read a letter from a 16-year-old child in China asking for help. The child said in his letter that just because his mother practiced Falun Gong, the police had arrested and tortured her many times. The boy only wanted to be with his mother. Ms. Ware said it was heartbreaking to see such things happen to the children simply because of their belief.
Students from the Minghui School in Washington DC performed dances at the rally, and called on people to help the children in China who are being persecuted for practising Falun Gong.
You are welcome to print and circulate all articles published on Clearharmony and their content, but please quote the source.