When talking about Switzerland, would one think of the Maiden Peak perennially covered with pure white snow and Luzern with pleasing scenery of the lakes and mountains? Or of Geneva and Zurich, the international metropolises full of the flavour of modern times? Or of sweet smelling and palatable chocolates, accurate wrist watches and the army knives of excellent workmanship?
In Switzerland, with a population of only 7.4 million, there are four official languages: German, French, Italian and Rhaeto-Rumantsch (Rumantsch). However, the difference of the languages has not caused any problem for the Swiss people to get to know Falun Gong. Falun Gong was first introduced in the French-speaking area and then got around in the German-speaking area in Geneva. A Chinese doctor started to tell the people she knew after she had practised Falun Gong. Very soon, the number of Falun Gong practitioners in Geneva grew bigger and bigger as it spread from mouth to mouth and heart to heart.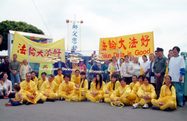 On May 13th 2006, the celebration of Falun Dafa Day took place on the busy financial street Bahnhofstrasse of Zurich, the largest city in Switzerland.

Every year, Falun Gong Practitioners travel at their own expense to the UN Square in Geneva for a peaceful appeal.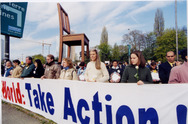 Appeal for stopping the CCP's persecution of Falun Gong.
There are some miraculous stories behind the spreading of Falun Gong in Switzerland. Mei came from Europe and she had lived in Switzerland for 24 years up to 1997. One evening she suddenly dreamed of a Chinese man in a black, Western-style suit and believed that this person would protect her. Two weeks later a Chinese friend suggested that she should attend a Falun Gong learning class. When she was watching the video at the first class, she saw the person in her dream, Master Li Hongzhi, the founder of Falun Gong. Two months later after she had practised, the symptoms of allergy she had suffered for 15 years disappeared without a trace.
There were a group of young people in Zurich who were keen on Chinese Gong Fu. Some of them had even gone to the Shao Lin Temple in China to learn it. One day, their tutor of the Martial Arts, a young man from Sweden, told them that he had read an advertisement about the free lectures on Falun Gong. He decided to attend and others could go if they wanted. Then, this group of young people came to learn Falun Gong together and started to practice together from that time on. Among them was a young man called Daniel who, after practising Falun Gong for three months, extricated himself from his nine-year habit of smoking marijuana and never touched it again.
With the lectures introducing Falun Gong being given from Geneva to Luzern , to Zurich, to the Capital Berne and from metropolises to the rural villages, the number of practitioners has grown bigger and bigger and Falun Gong practice sites have sprung up one after another. As a result, more people have started to learn and practice Falun Gong.
Also, man Swiss people found out about Falun Gong through the activities in which the practitioners exposed the CCP's brutal persecution and from news reports of the media after the persecution of Falun Gong by the Chinese Communist Party (CCP) began in 1999.
Starting in 2000, every year in March during the UN Human Rights Conference, Falun Gong practitioners from all over the world will gather in the square in front of the UN in Geneva to hold peaceful protests against the CCP's persecution of Falun Gong.
Among those Falun Gong practitioners were Chinese people coming from afar and westerners who loved the Chinese culture. There were grandpas in their eighties and little friends just learning to walk; there were busy professors, doctors, lawyers, transnational company presidents and housewives, and so on, who came of their free will for peaceful petitions in front of the UN using their own daily savings and their own holidays with the aim to appeal for common action to stop the CCP's bloody persecution of Falun Gong practitioners, to help fellow practitioners regain their freedom and no longer have to live in danger of suffering brutal torture and death, and to help hundreds of thousands of happy families from avoid being broken up by the CCP's persecution.
Falun Gong practitioners were so peaceful and firm the people of the world were moved. A security official in the UN who was in charge of maintaining order for the various rallies and protest demonstrations of different nations said, "I have performed my duties for so many years and have never seen such peacefulness. Please pass my words on to those practitioners that came a long way. They will have good fortune and they will have good results".
Many members of parliament also expressed their support by saying that they were duty-bound to stop the persecution. David Hiler of the Green Party from Geneva said, "China has been violating human rights over the past decades. Now China is again so foolish to persecute those pursuing their belief. In 1989, I felt indignant at the massacre in Tiananmen Square, but I thought I was alone and unable to do anything, whereas the whole world has now heard about China's persecution of Falun Gong and the CCP's government has felt very awkward. Here I wish to express my high commendation for the non-violent activities of Falun Gong practitioners, including those Western practitioners who had the courage to go to Beijing to tell the truth. They are willing to take a risk to change this world."
Falun Gong practitioners, not only during the Human Rights Conference but also on ordinary days, keep clarifying the truth about the persecution through various means. 65-year old Ingeborg and 57 year old Ursula from Berne are two among them, who started practising Falun Gong in 2000.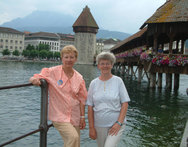 Ursula (Left) and Ingeborg (Right) in Lausanne, Switzerland
Ingeborg got to know about Falun Gong from one of her colleagues. "I started to practice Falun Gong in 2000. My nephew helped me download and print the book Falun Gong. Just at the moment when I opened and read it, I knew it was just what I longed for. I had been hospitalized for seven years because I was once in very poor health and there was nothing I could do about it. When I started to practice Falun Gong, I became healthier and my outward appearance started to improve, too. My family also became harmonious. So I continued to practice. This has been very good for my whole family. Falun Gong is really very good.
Ursula said, "I learned the news about Falun Gong through Ingeborg. We started to practice together. I started to practice Falun Gong just because I had been ill for a long time. The doctor told me that I had to have my large intestine resected because the conditions were really bad. I was often hospitalized and so I searched high and low and tried many different ways. I had practised Taiji, Yoga and Five-animal Show. None of the practices had helped me regain my health. It was not long after I practised Falun Gong that I got back my health. I have become gentler now, while in the past my mind was in tumult. Now I am in a peaceful state of mind and in good health. I feel that I have changed in a very positive way. I have given up many things and many attachments. Take my association with other people for example, I cast many unfriendly glances. Of course, only after I had practised Falun Gong did I find this out and did I find that actually I had once been very fierce with the people around me. After the practice, I have found myself changed, gradually improving every day. Therefore, I am very happy to recommend Falun Gong to everybody.
Not long after the practice, they got to know the situation about the persecution of Falun Gong practitioners in the mainland China. Ursula said, "We wanted to tell all the people around us at the very beginning that genocide was happening in China. Later, the areas we covered extended wider and wider. We wanted to help those who were being persecuted in China. To tell the truth to more people and to gather signatures for petitions was what we could do outside China. That was our most urgent wish".
From then on, they drove a car carrying informational materials to all the villages, big or small, throughout the highlands of Berne. Later for a long time, they kept driving to Valais to distribute the materials and the driving would take four hours each time. Within the territory of Switzerland are mainly the mountain areas and Valais is the hinterland of the Alps, surrounded with rolling hills. Many tourists wanted to climb to the perilous peaks of the high mountains and enjoy the bird's eye view with the freedom of heart and ease of spirit on them. However, it was not easy to drive a car carrying more than one thousand copies of newspapers up to the perilous peaks or down to the valleys. Sometimes, Ursula and Ingeborg had to leave the newspapers at a location to continue their driving because the mountains were so high and the roads were so narrow and their car could not hold the weight of so many newspapers. Sometimes, they could only see a family house after a very long drive, but they neither gave up and nor stopped going forward.
Many people were willing to tell the news they had learned to more people. The local radio once invited them to clarify the truth on a live broadcast. Many people of Valais got to know about Falun Gong in this way.
People can also learn about Falun Gong from the various activities organized by Falun Gong practitioners. Various Information Days, Anti-Tortures Demonstrations and Enactments of the CCP's Live Organ Harvesting Atrocities have been held by Falun Gong practitioners in places from Davos in the east to Geneva in west, from Basel in the north to Locarno in the south and from the international metropolis Zurich to the rural town the Appenzelerland.
The World Economic Forum is held at the end of January each year at Davos -- the Ski Resort. Starting from 2003, Falun Gong practitioners would always come to Davos and set up information desks during the Forum each year. The white snow brings limitless happiness to the skiers while to the Falun Gong practitioners who need to stand in the cold wind and distribute information materials for a long time, the white snow brings cold. But the practitioners have never complained, because the cold means nothing to them.
David, a Falun Gong practitioner, says, "People would say the weather is very cold. But you would not think about cold or hot when you are doing something that you think is very good. If you think what you are doing is very important, no one would really feel the cold because we really do not have time to consider these things. Many people come to our desks and express thanks for our coming".
65 year old Ingeborg, who is from the highland of Berne said, "One day a lady talked to me and said the weather was really cold but you have been standing all the time. I said to her, do you know, I would have been in jail or my organs would have been removed alive if I were in China now? So the cold like this means nothing to us. The situation in China is very, very bad. There will be no problem for us to stand such cold or we can go into the room for warmth when we feel cold. But when you are suffering brutal torture, you have to endure. Many firm Falun Gong practitioners in China are now suffering brutal tortures".
Falun Gong practitioners also hope that there will be more people coming here to learn about the truth from this activity. As far as Ursula is concerned, "This is the fifth time for us to hold activities like this during the World Economic Forum. For us, it is a good opportunity to expose to the world the CCP's persecution of Falun Gong, especially the CCP's atrocities of harvesting organs from living Falun Gong practitioners. There are many statesmen, media and famous people from all fields coming to Davos from all over the world during this period. Therefore, we can explain the truth to many people. We hope to quickly stop the genocide that is happening in China. We hope to expose and stop the crimes of the CCP's organs harvesting from living Falun Gong practitioners".
Bahnhofstrasse Street of Zurich is known as the market centre of various famous brands and quality goods, such as antique treasures, wrist watches, jewellery and necklaces. People even fly in to Switzerland to shop at Bahnhofstrasse Street. Starting from the end of 2005, Falun Gong practitioners would come to Bahnhofstrasse Street to hold Information Day activities on the second Saturday of each month.
Madam Lin is from Berne. She has a two-year old son called Yuan Yuan. Although Yuan Yuan is just a little boy, he also gives a copy of the materials to the passers-by and joins in the activities of the information day with his parents. "Our whole family comes here in order to make China stop the persecution of Falun Gong practitioners. We feel heart broken when we see many Falun Gong practitioners being persecuted to death every day. In particular, there are many children whose parents have been persecuted to death and even some of their grandmothers have been persecuted to death. I think it is really very cruel. So I hope to stop the persecution as soon as possible and not let more children lose their family members.
| | |
| --- | --- |
| | |
| May 6 2006, at the Swan Square of Luzern tourist resort, Falun Gong practitioners expose the CCP's atrocities of organ harvesting. | A group of students wait to sign the petition in support of Falun Gong. |
At the beginning, many passersby just walked past quickly, but gradually many of them were attracted by the scene where the Falun Gong practitioners closed their eyes and practised to the peaceful music. Especially since March 2006, many people have been shocked by seeing the banners hanging above in front of the Information Desks with words in both German and English telling of "the CCP harvesting living organs for profit in concentration camps". They talk with the practitioners for a long time and ask about the organ harvesting in detail. Many people sign the petition one after another.
In various activities, more and more passers-by are willing to send out their voices of justice and express their wish to stop this persecution.
Not only more and more Swiss people have learned about Falun Gong, but also many more Chinese are gradually starting to see through the CCP's lies.
The picturesque Luzern is a place that the Chinese tourists must come and visit. Falun Gong practitioners have held many activities here. Starting in April 2006, the practitioners would come almost every day to Swan Square where the Chinese tourists gather and distribute the Nine Commentaries on the Communist Party to the Chinese tourists and hope they will gain real knowledge about the evil nature of the CCP, not be deceived by the lies of the CCP and understand the reason that the CCP persecutes Falun Gong is because of its evil nature.
More and more Chinese people were now willing to receive the materials and some of them ask the practitioners to help them quit the Party. Of course, there were also some people who did not understand Falun Gong practitioners because they had been deceived for a long time by the propaganda.
Ms. Li once met with a group of Chinese tourists who not only refused to accept the materials in Chinese or listen to the practitioners clarifying the truth, but also used foul language with the practitioners. At this time, Ms. Li sang the song entitled "Tiananmen Square, Please Tell Me". The singing from the bottom of her heart moved the hearts of the tourists. "Well done; once more," shouted some of the tourists after hearing the song. On the verge of tears, some told the practitioners quietly, "We actually know that the CCP is not good. We do not dare to receive the materials because we are afraid that someone will inform on us. But we will not be against Falun Gong now".
You are welcome to print and circulate all articles published on Clearharmony and their content, but please quote the source.