October 1st is the National Day of Mourning in China. On this day, the Human Rights Torch Relay arrived at St. Niklaas City, the fourth stop in Belgium, where the sixtieth Peace Festival was just celebrated last Monday. The Mayor of St. Niklaas City decided to let the city hall become the recipient of the Torch as a part of the Peace Festival, to express support from the city for human rights in China.
On behalf of city Mayor, Sofie Heyrman, the Minister of Municipal Inhabitance and Health Department, received the Ambassador and supporters of the Human Rights Torch Relay in the City Hall, and claimed that it was a meaningful date for St. Niklaas City. She said that today is a special date; St. Niklaas City just welcomed the sixtieth Peace Festival after world II war. The Peace Festival's mission is to air the peaceful and ethical society; to respect the people from all races and with different religious beliefs.
A representative from the CIPFG (Coalition to Investigate the Persecution of Falun Gong) addressed in his speech that history is witnessing the human rights of the Chinese people going from bad to worse under the tyranny of the Chinese Communist Party. They'd like to stress once again on this particular day, there should be no Olympic Games, without Human Rights.
In the end, the Minister Sofie Heyrman herself ignited the torch in the hand of the Ambassador of the torch who hurried it away from Holland. From the 3rd of October, the Torch Relay will be carried on into Holland's The Hague and Amsterdam.
The Belgium media came to gather the news from today's activities, including the biggest Radio Channel- Radio 2.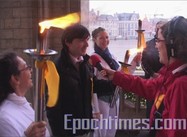 The torch in the hands of the Holland Ambassador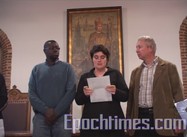 Minister Sofie Heyrman reads out the welcome speech from the mayor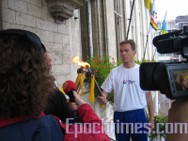 Media report on the Torch arriving at St. Niklaas City
You are welcome to print and circulate all articles published on Clearharmony and their content, but please quote the source.