Before October 1st, the National Day of Mourning in China, the Service Centre for Quitting the Chinese Communist Party (CCP) in the UK invited local folk group Tian Yuan Chorus to give a performance in Chinatown, London. This event was to encourage UK people to show concern for the Chinese people in mainland China who have been suffering under a brutal communist dictatorship, and was also to call on the Chinese people to quit the CCP and its related organisations.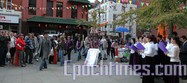 The performance of the chorus was attractive and many people stopped and listened
The Tian Yuan Chorus is a local folk music group that consists of overseas Chinese who love music. Most of the songs they sing are composed by themselves. The performance attracted many people, they stopped and enjoyed it.
Mr. Cai, English born of Chinese descent whose ancestral home is Hong Kong, was very supportive of the activity of Chinese people quitting the CCP and said: "I am a Chinese, but now the CCP is killing us Chinese people. I hope that they will quit the CCP and end the CCP.

Mr. Cai, a resident in London is very supportive to the activity of quitting the CCP
Ms. Boler, a resident of Montreal in Canada who was travelling in the UK, liked Tian Yuan Chorus very much. She said: "Although I don't know much about the facts of Chinese people quitting the CCP, it is very important to let people know what is happening in China through such a way. I very much like their chorus and their voices are so beautiful and pleasant to listen to."
Ms. Jiang, a member of the Chorus, personally experienced torture in a Chinese labour camp because she was a Falun Gong practitioner. Ms. Jiang said: "We are hoping let people learn about the situation in China through singing. We Chinese need democracy and freedom very much."
You are welcome to print and circulate all articles published on Clearharmony and their content, but please quote the source.