At a ceremony marking the Human Rights Torch Relay in Geneva, a cellist's excellent performance won high praise from the audience. The musician was none other than Christian Benda, a renowned cellist in Switzerland and the chief conductor of the Czech Prague Republic Symphony Orchestra.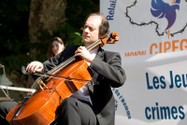 Christian Benda, a famous Swiss cellist
Mr. Benda was born into a musical family with a long history of over 300 years. Not only is he an excellent musician but also a human rights defender with sense of justice and conscience. At the ceremony to mark the Human Rights Torch Relay in Geneva, he picked two songs to play, one of which was a work by great German composer J S.Bach. Mr. Christian Benda said when the Berlin Wall was torn down, the music played in front of the wall by the famous cellist Rostropovich was this work. "I hope that you can also foresee what is going to happen in the future".
The other piece played by Mr. Benda at the ceremony was the theme song for the Human Rights Torch Relay. As Mr. Benda has just come back from a performance in Shanghai, China, he was particularly aware that he may not be able to enter China and perform there again. However, he didn't care about it whatsoever. When playing the theme song, its solemnity and excitement deeply moved the hearts of all the people around.
When talking about the Human Rights Torch Relay, Mr. Christian Benda said, "The real Olympic Torch comes from the bottom of people's hearts."
You are welcome to print and circulate all articles published on Clearharmony and their content, but please quote the source.