At noon on September 21st, several hundred people rallied in front of the student activity centre at the St. Paul campus of the University of Minnesota. The rally celebrated the fact that more than 26 million people have quit the Chinese Communist Party (CCP) and its affiliated organisations.
Rally guests voiced their support of the 26 million Chinese people who have quit the CCP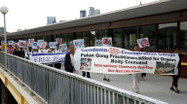 People marched at the University of Minnesota urging the public to pay close attention to the persecution of Falun Gong and to realise the evil nature of the CCP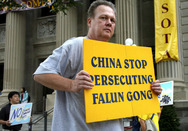 A parade message: Stop the Persecution of Falun Gong
Writer Jin Zhong spoke to the rally and said that the degree of evil exhibited by the CCP is beyond the bounds of human morality and surpasses any group or individual in history. "For example, the CCP advocates so-called 'Unrestricted Warfare,' an indication that the CCP is planning to destroy the whole world before its own destruction." Mr. Jin said.
"Many Chinese people have lost their free will and cannot tell the difference between right and wrong because of the influence of the communist culture. Spreading the Nine Commentaries on the Communist Party and encouraging people to quit the CCP is our only hope." Jin concluded.
At the rally, Falun Gong practitioner Ms. Li Huagui recounted her horrific ordeals in China. For distributing Falun Gong truth-clarifying materials, she was unlawfully detained for more than three months and was later transferred to a forced labour camp in Guangdong Province. In the labour camp, she was packed into a small cell with another 30 female inmates who were drug dealers, murderers, and other criminals. Camp authorities ordered the other inmates to use any and all means to make sure that she did not practise Falun Gong. She was subjected to torture and brainwashing in the camp.
"Once, my son, who is not a Falun Gong practitioner, helped one of my fellow practitioners to download the Nine Commentaries. My son was forced to pay a fine of 60,000 yuan and the practitioner was sentenced to eight years in prison. " Li said.
During the rally, students came up to ask for materials or take photos of the photo display that documented the murderous history of the CCP and the brutal persecution of Falun Gong.
Starting at 3 p.m., several hundred practitioners and supporters held a parade, marching from the Carlson School on the west side of the Mississippi River to the Alumni Center on the east side of the river. Participants displayed banners which called for Chinese people to quit the CCP and urged the public to help end the persecution of Falun Gong. The parade attracted many students and passersby.
You are welcome to print and circulate all articles published on Clearharmony and their content, but please quote the source.