Luchou of Taipei County, Taiwan occupies 7.4 square kilometres and is home to approximately 190,000 people. The population and area of Luchou are not in the top ten in Taipei County, but recent activities in Luchou to call for an end to the Chinese Communist Party (CCP)'s live organ removals have been noteworthy.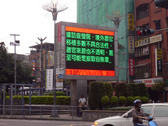 "Restore Conscience and Stop Atrocities" posted at a busy intersection for four months
Words in the lower image: "Based on investigation, most organ transplantations in Mainland China are illegal, with unknown organ sources. Organs are even forcibly removed from innocent people."
The only electronic posting board in Luchou is located at the intersections of Sanmin Street, Chungshan First Street, and Chungshan Second Street. It generally posts messages concerning local activities and city government policies. Four months ago, the postings included the message "Restore Conscience and Stop Atrocities" with contents to remind residents that most organ transplantations in mainland China are illegal, with unknown organ sources, and that going to China for organ transplants needs to be carefully considered.
On May 4th, 2006, the Chiayi County Council passed the first resolution condemning the CCP's atrocities of live organ removal and calling for the international community to stop it. Later, similar resolutions condemning the CCP were passed in eighteen councils, including Ilan, Chilung, Hualien, Tainan, Yunlin, Pingtung, Penghu, Changhua, Hsinchu, and Taichung. Out of the twenty-one counties and cities in Taiwan, more than half of them have passed the resolution.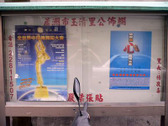 "Rescue Conscience and Stop Atrocities" fliers were posted on display boards across Luchou

In the parks of Luchou, practitioners put up banners with the words, "Be Careful of the Dangers of Organ Transplantation Overseas"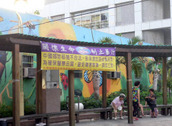 "Be Careful of the Dangers of Organ Transplantation in China"
Luchou is the first city in Taiwan to have used banners, posters, and electronic posting boards to remind residents, "Organ transplantation in China is illegal, with the source of organs from people being persecuted. To safeguard medical ethics and avoid harming innocent people, please think it over."
Director Secretary Cai De-hsiung of Luchou said, "The CCP does not respect life but tramples on human rights. It is disgusting. Thus we cooperate with the community of Falun Gong practitioners' activities. As long as city governments can do this, we will cooperate to provide publicity. In addition, local administrative offices are being told to relay the messages to residents."
He indicated that Falun Gong practitioners could post notices when they hold activities.
Interrupting his busy schedule, Luchou Mayor Li Weng-yueh said, "Live organ harvesting for trade is bad. Every life should go through birth, aging, illness, and death naturally. It is bad to gain profits from organ trade."
Mr. Cai believes that practising Falun Gong is good. If the CCP conducts live organ harvesting just because people practise Falun Gong, it is wrong. He said he read The Epoch Times everyday and knew about the CCP's live organ removal. Those who do not know will be harmed if they go to China for organ transplants.
Falun Gong practitioner Mr. Hu, who is employed in mold processing, explained the contact process with the Luchou City government. In March 2006, when two witnesses disclosed the CCP's live organ harvesting, Mr. Hu and Mr. Yang visited Director Secretary Mr. Cai.
Mr. Cai listened to the phone recordings where China's hospitals admit that organs for transplantation were from Falun Gong practitioners and was shocked. When he saw the photo of practitioner Liu Yufeng of Shandong Province, who had been tortured to death, he said that the mayor could not bear to see such bloody photos.
From then on, Mr. Cai paid attention to reports on the CCP's live organ removal on The Epoch Times. When practitioners applied to post their notices, he agreed and warmly supported them.
Ms. Ke, a local resident, said that besides the electronic posting board and banners, Mr. Cai also asked local administration officers to hang large posters on bulletin boards and to distribute special notices. The special notices covered the most recent investigation report on the CCP's live organ removal, advice from doctors on not going to China for organ transplants, and an introduction to Falun Dafa.
In order to stop the CCP's persecution of Falun Gong and expose the facts of its live organ harvesting in prisons, labour camps, detention centres, brainwashing centres, mental hospitals, hospitals, and related facilities, the Coalition to Investigate the Persecution of Falun Gong (CIPFG) initiated the Human Rights Torch Relay that began in Athens on August 9th. CIPFG is composed of more than 300 outstanding people from all walks of life and many countries. The purpose of the relay is to expose the CCP's atrocities and crimes against humanity, and to inform the international community that "The Olympic Games and Crimes against Humanity Cannot Co-exist in China".
Mr. Cai said that there is no national boundary for human rights. If everyone condemns the CCP, it will feel the pressure. Besides signing the petition to support the human rights torch relay, he said he would invite his colleagues to support it.
In addition to the locations listed above, many intersections in Luchou display yellow banners that read "Falun Dafa Is Good", and "The World Needs Truth-Compassion-Tolerance".
You are welcome to print and circulate all articles published on Clearharmony and their content, but please quote the source.