It was a beautiful sunny day in Athens for the celebration of World Falun Dafa Day on May 13th, 2007. Practitioners from Athens, Greece travelled to Thiseio to celebrate the benefits of Falun Gong and to allow people to witness and catch a glimpse of the Falun Gong exercises. Passersby on their afternoon stroll through the historic ruins and cafes stopped and admired the exercise demonstration. They read the information about the practice and about the persecution of Falun Gong in China. Many asked how they could learn the practice and were surprised that it was free of charge.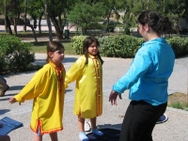 During the afternoon, two mothers and their children stopped to watch our demonstration as we were dressed in golden traditional Chinese exercise costumes. Two of the little girls, about seven years of age, enquired how they could learn the practice and if they could even wear the golden uniforms as well. So the two young girls dressed in the upper half of the golden costumes and wholeheartedly learned the Falun Gong exercises from a Greek practitioner. They insisted they try the exercises with the music and after each exercise, they would go to the information board, to look at the next exercise they were about to learn. They asked when they could come to do the exercises with us. One girl said to the Greek practitioner, "I will do the exercises at home. I feel very calm and my knee is not hurting anymore. Thank you." They gave the Greek practitioner a big hug and happily bid him farewell. Their mothers took paper lotus flowers for the girls and flyers for information to contact us. It was a beautiful site to see for all on that hot spring day in Athens for World Falun Gong Day 2007.
You are welcome to print and circulate all articles published on Clearharmony and their content, but please quote the source.