On June 3rd, 2007, people from three counties in eastern Taiwan including Ilan, Hualien and Taitung came together to hold a parade of motorcycles and cars in Hualien City. The theme of the parade was to support the 22 million brave people who have quit the Chinese Communist Party (CCP) and its affiliated organisations. That same afternoon, the motorcycles and cars that participated in the parade were taken to Hualien County Council Square where a press conference was held. At noon, the parade of motorcycles and cars set off and circled the downtown area of Hualien City.
There was a sea of motorcycles, cars and flags at the scene of the activity, grand and spectacular. Many media outlets, including NTDTV, a Hualien City cable TV, the China Times, the United Daily News, Keng Sheng Daily, Eastern Express and the United Federal Daily News sent reporters to conduct interview and cover the event.
The local cable TV station aired their report every three hours that evening.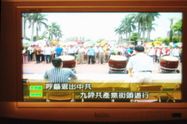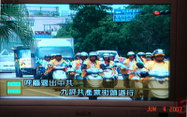 Local cable TV station airs the news every three hours
The next day, the China Times and Eastern Express published reports on the event.

China Times reports the event the next day

Eastern Express publishes a report on the activity
The United Federal Daily News announced the activity three days in advance, and published a photo report the day after.
United Federal Daily News covers the activity
The activity was sponsored by the Epoch Times and Global Center for Quitting the CCP and gained support from people of all circles in eastern Taiwan. Dignitaries, including Hualien Mayor Tsai Chi-ta, former representative of National Congress and Tung Hua University professor Ong Ting-hseng, Ilan County lawyer Chen Hui-ru, principal of Hui Teng Middle School Hong Teng-hsiang, physician Chen Kuo-feng and others made speeches to support the quitting-the-CCP activity. The attendees unanimously expressed that the CCP is a political party, it is not China itself. They also said that more than 22 million people have withdrawn from the Communist Party, the Youth League and the Young Pioneers, which shows that the CCP has come to its end, and that its collapse is imminent. The Nine Commentaries on the Communist Party exposes the CCP's wicked nature, and has brought a bright new day for China and the whole world.
You are welcome to print and circulate all articles published on Clearharmony and their content, but please quote the source.