On May 12th, 2007, Falun Gong participated in the 37th Kobe Grand Parade and performed a dance and an exercise demonstration on the stage. This is the second time practitioners have taken part in this parade. Local Chinese people also participated in the parade. Three Chinese international students watched the Falun Gong processions and raised their thumbs saying, "Falun Gong makes the Chinese look good." Many Chinese that live in the Nanjing Street area came out to watch the parade and some of them applauded for the Falun Gong entries for a long time.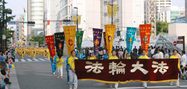 Falun Gong procession at the 2007 Kobe Parade in Japan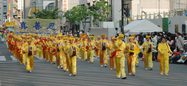 Falun Gong waist drum section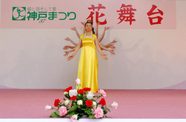 "Buddha Showing a Thousand Hands" on the stage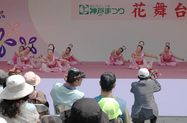 Practitioners performs "Spirit of the Flowers" dance on the stage
The most popular performance in the Falun Gong procession was the waist drum troupe. Even before the performers arrived, people could hear the drum beats. When the waist drum players marched by, the spectators applauded for them.
Practitioners performed a dances named "Buddha Showing a Thousand Hands" and "Spirit of the Flowers" on the stage. The audience members were moved by the beautiful movements and applauded warmly.
The local TV station, SunTV, broadcast the parade live. Through this grand parade, more residents and Chinese people living in Japan experienced the beauty of Falun Dafa and the divine nature of Chinese traditional culture.
Kobe is one of the largest harbors in the world. Kobe was the first Japanese harbor opened to foreign countries and has a history of 140 years of being an open harbor. Many Chinese live in Kobe. "Nanjing Street in Kobe" is the most famous of the three Chinatowns in Japan. The local Chinese also have a Chinese language school and many international activities with China and Taiwan. As for Chinese culture, the Chinese in Japan celebrate the Chinese New Year and the Moon Festival (Mid-Autumn) every year and they have become important local cultural events.
You are welcome to print and circulate all articles published on Clearharmony and their content, but please quote the source.