On May 13th, 2007, Falun Gong practitioners in Indonesia celebrated World Falun Gong Day in Jakarta, Bali, Surabaya and Sidoarjo. Celebrations were held simultaneously around the world. With activities including dance and music, they celebrated the bright future that Falun Dafa has brought to the world.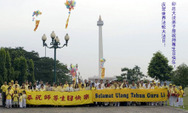 Falun Gong practitioners wish Master Li Happy Birthday at Merdeka Square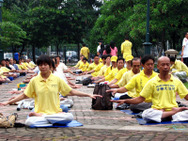 Falun Gong practitioners in Jakarta do group exercise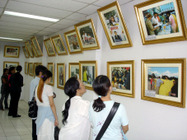 Truthfulness-Compassion-Tolerance Art and Photo Exhibition in Bali
To celebrate World Falun Dafa Day and the fifteenth anniversary of the introduction of Falun Gong to the public, Falun Gong practitioners held a Truthfulness-Compassion-Tolerance Art and Photo Exhibition in Alfa, Denpasar in Bali. The exhibition will be open for fifteen days.
The exhibition depicts the history of Falun Dafa over the past fifteen years and the steadfastness of Falun Gong practitioners facing cruel persecution by the Chinese Communist Party (CCP). Falun Gong practitioners in Bali made several sculptures of themselves practising the exercises and displayed them at the exhibition. The sculptures looked very lively and fascinating.
Visitors to the exhibition gave great reviews from the very first day. Dr. Gede Bagianda said we really should uproot Communism, especially in Indonesia. We shouldn't allow such a cruel tragedy to happen.
Mr. Sugiatmo said he was strongly against the CCP's cruel persecution of Falun Gong. He believed that if people didn't follow God's arrangements or couldn't treat other people right, Gods would eliminate them and make them head for destruction.
Mr. Dewa Budaya loves painting. He said he was inspired by the artwork. The artwork sends a strong message that human rights must be respected.
Celebration of World Falun Dafa Day in Different Cities of Indonesia
Hundreds of Falun Gong practitioners in Bali celebrated World Falun Dafa Day at Puputan Badung Square in Bali on the afternoon of May 13th. Those at the square watched the group exercise. Some learned the Falun Gong exercises with great enthusiasm. Some joined the group exercise.
Falun Gong practitioners sang a chorus of songs written by their fellow practitioners, like "Coming for You" "Thank you, Master!" and "Falun Dafa is Good." The audience responded with warm applause. Students of Minghui School gave a dance performance, recited poems from Hong Yin [Poems written by Master Li] and distributed balloons to the children on the square.
Falun Gong practitioners prepared a birthday cake for Master Li, wished Master Li happy birthday and expressed their gratitude.
A candle light vigil was held in the evening in memory of the more than three thousand fellow practitioners who died from the persecution in China. Their appeal called for an end to the persecution. Hundreds of golden-coloured candle lights created a solemn atmosphere at the square. Many people were deeply moved. When Falun Gong practitioners started singing "Awakening," two Chinese Indonesian women said they were very touched by the lyrics and tune.
Falun Gong practitioners in Jakarta, Surabaya and Sidoarjo also held a series of activities on May 13rd to celebrate World Falun Dafa Day and wished Master Happy Birthday.
A group exercise and waist-drum performance was held at Merdeka Square in Jakarta. Falun Gong practitioners in Surabaya and Sidoarjo held truth-clarification activities in front of the Travel Bureau and in shopping centres. They also did exercises together at Gubernur Suryo Square. Some people became interested in learning Falun Gong and found out more information about where they could learn it.
You are welcome to print and circulate all articles published on Clearharmony and their content, but please quote the source.