On March 31st, 2007, Chinese people living in Sweden held a rally in front of the Chinese Embassy in Stockholm to support the 20 million Chinese who have withdrawn from the Chinese Communist Party (CCP). People held banners reading "Supporting 20 million Chinese quitting the CCP", "The evil CCP has been uprooted", and ''To withdraw from the CCP is to disintegrate the CCP". Many people held handmade placards reading "Quit CCP" and "Support a free China".

Swedish people rally to support 20 million withdrawals from the CCP
Most of those taking part in the rally were from Stockholm and Gothenburg, the second biggest city in Sweden. They made speeches and read out their messages to the Chinese Embassy over a loudspeaker. They told embassy staff the true situation of Chinese people withdrawing from the CCP, and urged them to quit the CCP themselves.
One man told people the story of Ms. Zhang Jiyan, wife of a staff member in the Chinese Embassy in Canada, who had renounced the CCP and its affiliated organizations. He encouraged staff in the embassy to stand up and break away from the CCP and to welcome a new China without the CCP.
The rally later moved to Mynttorget Square in the city centre. The participants continued to tell Stockholm residents and tourists about Chinese people's withdrawal from the CCP. Some posters revealing the crimes of the CCP were also displayed.
In her speech, Jans from "Supporting Human Rights in China" said after the Epoch Times published the editorial "Nine Commentaries on the Communist Party", the great wave of withdrawals from the CCP began. 20 million Chinese have now quit the CCP. "A new era has arrived and we are happy about Chinese people awakening."
One man said, "Communist dictatorship killed 100 million people in the world. I am so glad to see that Chinese people have got the chance to withdraw from the CCP and China will discard evil Communism just like East Europe and Soviet Union did."
Many tourists came to ask for leaflets about the situation, including Chinese. A Chinese couple quit the CCP on site.
One Chinese man did not like the rally, thinking they should not bad things about their own country. Mr. Li from the Service Center of Quitting CCP talked with him about the evildoings of the CCP and thus he understood the evil nature of the CCP. At last this man said "In the political environment of China, we have been fooled and brainwashed by the CCP and it is very hard for us to make correct judgment. In this information age, it is not good to block the internet and to control public opinion. Chinese people outside China are relatively lucky because they can obtain information from all resources. I feel lucky that I met you today."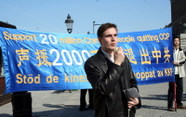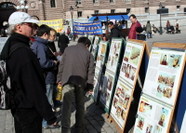 Passersby want to know more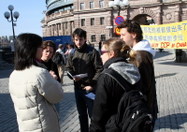 Talking to curious passersby
You are welcome to print and circulate all articles published on Clearharmony and their content, but please quote the source.